Opening and Closing Louvre Roof Design Options from Vergola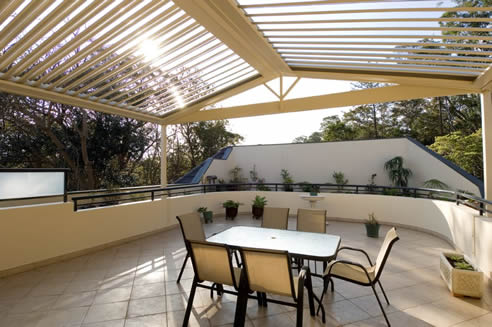 Vergola opening and closing roofs come in a variety of design options, with each one custom-made to suit individual property and requirements.

No matter what the architectural design requirements are, a Vergola can be designed to fit. Whether we are enhancing your existing trim details or completely blending-in with your exterior finish a Vergola can be designed to suit any style of architecture. Vergola's can be built with custom made columns or with features to match period homes. Even small spaces & unusual shapes can accommodate a Vergola. Be it a courtyard, patio, verandah, pool area or even an existing pergola you wish to cover, Vergola can be confidently included as part of your plans. The possibilities are extremely varied and the options available ensure a completely tailored and finished design. Roof Design Options include: Flat Roof - One of the most popular designs which suits most houses. Frame is flat and the louvres have a one degree fall to control water. Posts and frame can be timber or powder coated steel. Skillion Roof - A skillion roof is essentially a sloping roof design. Posts and frame can be timber or powder coated steel. Box Frame - A premium-look designed to suit houses made from rendered brick. Posts can be made from rendered brick or textured 'blue' board with a steel post inside. A-Frame - The simplest form of an A-frame is two similarly sized beams, arranged in a 45-degree or greater angle, attached at the top. Curved beam - If you house contains any curved features we can customise the Vergola to suit. Screens - Vergola louvres can be installed vertically to provide a privacy screen and provide the perfect match to your Vergola roof.