The Sustainable Choice for Rose Bay Eco-House from Vergola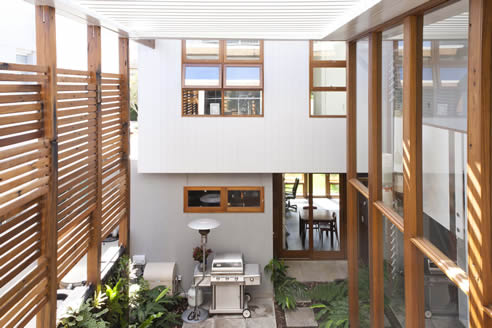 This eco-house in Strickland St, Rose Bay was built by builder/project manager Cameron Rosen working closely with architect Caroline Pidcock and thermal modeller Graham Hunt.

The house incorporated passive design, thermal comfort zoning, smart insulation strategies, innovative sustainable building materials, energy and water efficiency, permaculture, and clever solutions to make a truly sustainable home. Cameron Rosen, Managing Director, Australian Living says "We integrate the Vergola louvre system into our designs to help control the thermal heart of the homes by being able to open the louvres to follow the winter sun and shut the louvres to block out the summer sun. The Vergola louvre system is prefabricated, quick to install and allows us to create the perfect outdoor/indoor living environment which is well protected from the elements - wind, rain and sun."