Automated Solar Roller Shutters from CW Products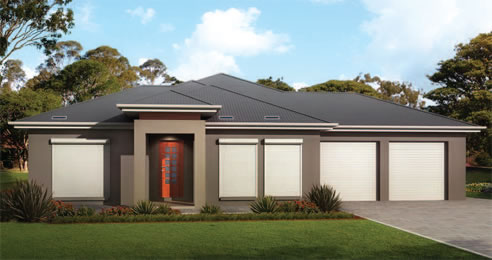 A Greener & Smarter Way To Automate Your Roller Shutters!
CW Products would like to introduce it's new range of Solar Roller Shutters. SolarSmart™ is the most advanced technology in solar powered roller shutter automation in Australia.
The SolarSmart™ roller shutter automation system is independent of mains power and harnesses the sun's energy, through solar panels positioned on the shutter pelmet or near the shutter.
These solar panels charge a battery system that in turn supplies power to a DC motor for roller shutter automation. SolarSmart™ utilises the latest in sophisticated electronics to manage the charging of the advanced battery system and is controlled via a specialised wireless remote control transmitter.
This all means an easier, more cost effective, environmental and efficient way to operate roller shutters.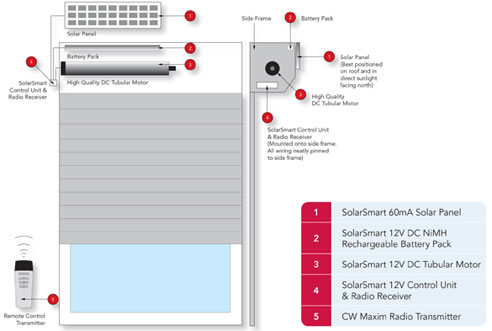 * Solar panels are only to be positioned on or above the roller shutter if in direct sunlight and facing north, with a minimum of half a day of sunlight in both Summer and Winter. Otherwise for optimum performance, solar panels should be positioned on the roof in direct sunlight and facing north where possible. If not enough direct sunlight, you may require two solar panels to power the roller shutter, or you may need to move the solar panels to a north facing or ideal position, with available extension cables.
The NEW SolarSmart™ Roller Shutter Automation System:
Comply with New Australian Standard AS3959-2009
Completely solar powered
Green energy
Save money on energy costs
No hard wiring or electricians
Easy & quick to install
Remote control operated
Choice of profile colours
Save time, money and our Earth
Made in Australia
5 Year Roller Shutter Guarantee