Braille Signage and Technology from Hillmont Signs Sydney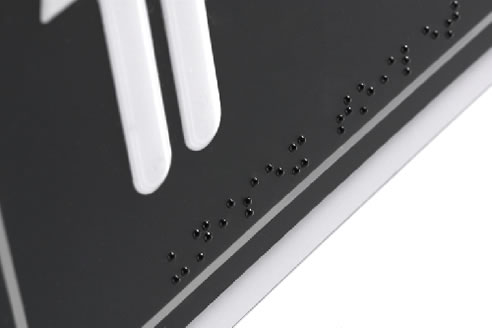 Braille Technology
The world is going mobile and the lifespan of most technology is measured in months. Most daily consumables can be made by machines, even some components can be printed using 3D. Digitally copying objects is here to stay and now they are almost throw-away technology. Yet still only a small amount of material is available in braille.
Braille production technology is archaic next to the massive changes in printing technology. The high price of refreshable-braille displays only holds things back. A serious lack of organized innovation exists in this sector and a vibrant future requires change. Braille can and must be liberated through refreshable-braille technology.
Producing quantities of books in the low hundreds each year on a national basis is no longer acceptable. Working together, all stakeholders of the braille-support community will help overcome the challenges of ensuring braille literacy for future generations.
(Excerpt from Future of Braille: NLS Braille Summit, 2013 Internet Source*).