Capillary Waterproofing with Radmyx from Radcrete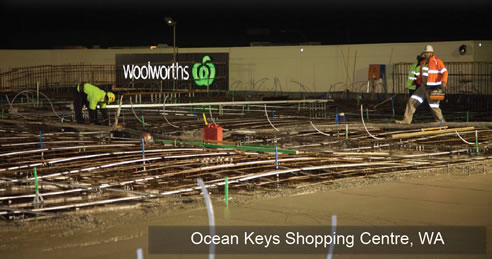 Ocean Keys Shopping Centre, WA
Inconmat Australia's waterproofing expertise was called upon to provide a fail proof solution for the Ocean Keys Shopping Centre in Perth, WA.
Apart from a 100% watertight result, the RADMYX™ Capillary Waterproofing System also delivered significant cost savings compared to traditional, labour intensive membrane technologies.
RADMYX™ was added to the concrete prior to the onsite pour, resulting in a waterproof pre-stressed rooftop slab.
Speedy Construction & Significant Cost Reduction
TREATED AREA: Shopping Centre Rooftop
SIZE: 5.500 cubic metres
APPLICATOR: Inconmat Australia