Cost Effective Waterproofing System from Radcrete Pacific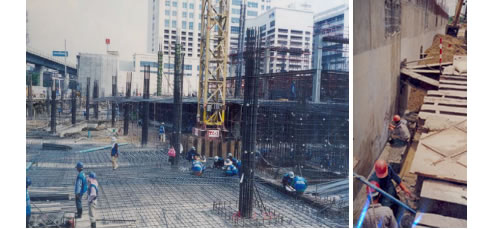 Radmyx waterproofs Big C Super Centre, Thailand
Radmyx has been chosen to waterproof another of Thailand's landmark shopping centres. Photographed are the basement walls of the Big C Super Centre project where Radmyx has recently been applied as the preferred waterproofing system.
Both MAA Consultant and SAI Consultants saw the merits of fast track construction, cost effectiveness and no requirement for protection prior to back filling.
The Radmyx system is user friendly and can be applied in the wet season with no fear of de-bonding or bubbling which could create problems with conventional systems.
SITE DETAILS
COUNTRY: Thailand
SITE: Big C Super Centre
ARCHITECT: SAI Consultants
APPLICATOR: Radcon (Thailand) Co Ltd
CONTRACTOR: Siphya Construction
CLIENT: Big C Public Company Ltd
SIZE: 15,000 sq mtrs
Radcrete Pacific Pty Ltd Profile
02 9362 3511
Suite 2, Level 3, 100 New South Head Rd, EDGECLIFF, NSW, 2027