Gemstone Wall Mixer with Spout from Tilo Tapware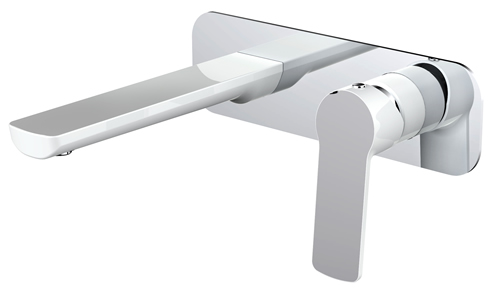 Introduction to Gemstone Wall Mixer Combo
Whether you choose a vessel crafted from porcelain or glass, or you select a vitreous counter top basin, a Gemstone wall mixer with spout will add a tasteful look to your bathroom or powder room. As well, it adds the latest contemporary style that is sleek and minimalistic.
Modern Look with Wall Mounted Faucets
Designers and architects agree one of the most popular trends for the bathroom is a wall mounted faucet. The style adds a streamline and clean affect. And with a hidden body, it is neat and clutter free. Further, the Gemstone wall mounted mixer combo is a bold yet elegant designer style that will add charm to the bathroom. This state of the art wall mixer has many stylish features that will easily match both conventional and contemporary décor. With a combination spout and mixer, plus a modern 2 tone finish, the faucet will definitely increase the aesthetic value of the room.
Durable
The wall mixer is one of the most durable tap wares on the market. Along with Gemstones superior design aesthetics, achievable only by the advancement of German technology in the development of a recessed housingless aerator, you are assured a long life operation and dependability due to the solid brass backing plate which provides both stability and a pleasing visual. In addition, the combination spout and mixer gives you the perfect flow of hot and cold water. Its carefully crafted engineering gives you precise flow and temperature control, making the device both ergonomic and economical to run.