A New Era in Homogeneous Vinyl from Forbo Flooring Systems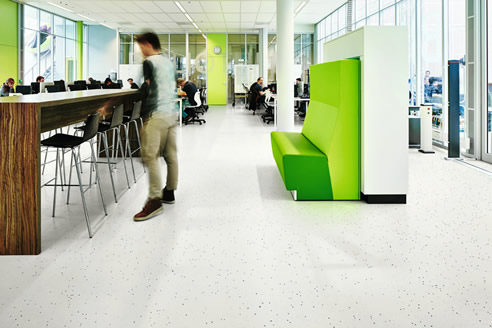 The Sphera Energetic colour palette is bold and contemporary, fresh and colourful.
It is playful and designed to combine with corresponding visuals with vivid highlights. The palette contains 41 solid colours and 11 matching colours with vivid accent chips. The 11 colours with accent chips are made with a selection of 3 solid colours, which makes them extremely suitable for mixing and matching.
Sphera Energetic has the thrilling sensation of crossing design boundaries, making homogeneous vinyl look different. Energetic offers an intricate pallet of semi plain and larger particle-mix colours that are made up from the semi plain colour base. Transparent granules provide for depth and dirt hiding properties. Energetic is created for modern spaces in contemporary as well as classic applications.
www.forbo-flooring.com.au/sphera