Pivot Arm Awnings from Blinds by Peter Meyer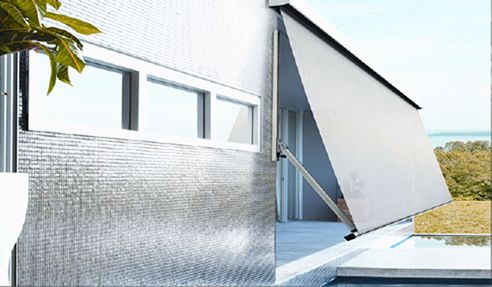 Pivot arm awnings are a great shade solution for outdoor areas like alfrescos and back yard gardens. They are also ideal for helping to protect interior spaces from UV rays and extreme heat while maximising privacy and controlling light. There are a number of different features to consider when choosing the right arm awning for residential properties, and deciding upon the right manufacturer can get a bit tricky. That's why Blinds by Peter Meyer combined all the best pivot arm awning features into one product.
Exterior arm awnings are a necessity especially for residents who live in areas like sunny Brisbane. The Teknika 5500 is one of many products in Blinds by Peter Meyer's range of Exterior Arm Awnings. This cost-effective pivot arm awning offers superior airflow and features. Its contemporary design is ideal for larger windows and allowing for windows to be opened even if the Teknika 5500 is projected. Achieving an extended awning effect is possible by using fixed side rails and projecting the awning up to 1500mm. Options like sliding arms are available for this product, allowing residents to adjust the pitch at an instant.
What are the components of Teknika 5500 Pivot Arm Awning?
Open Headbox - This element increases the air circulation around the roller. Teknika 5500's open headbox minimises the build up of heat and minimises the tendency of sticking on PVC skins.
Heavy Duty Pivot Arm - A heavy duty spring is incorporated in the Teknika 5500 Pivot Arm Awning that improves the fabric tension for awning widths up to 5 metres. The modern anodised finish of Teknika 5500 complements the standard Silver Pearl hardware.