Automated Roman Blinds in New South Wales by Blinds by Peter Meyer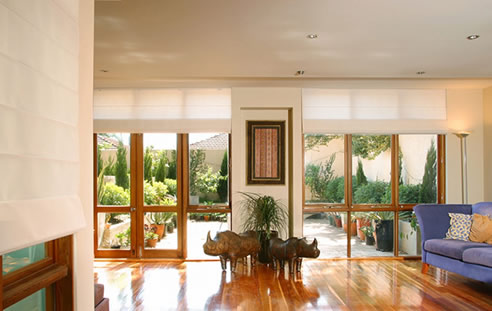 Automated Roman blinds are one of the most sought-after features of the modern home. These furnishings are the ideal choice for those looking to accentuate their windows in a classic yet functional way. In addition to their aesthetic value, automated Roman blinds serve the greater purpose of blocking out sunlight and providing adequate indoor heat regulation - an important feature for high heat summer days.
Summers in New South Wales
Summer heat records in Sydney and regional New South Wales were smashed last January, as reported by the Sydney Observatory at The Rocks. Sydneysiders sweltered through a record nine days of at least 35°C weather. For average maximum, minimum and mean temperatures, Sydney had its hottest January ever. Over to the state's north, Moree didn't fair any better. The agricultural town had experienced 36 straight days of temperatures 35°C and above - twice as long as the previous record in 1981.
Automated Roman blinds are an effective and accessible solution by which residents in New South Wales can beat the heat in their homes. And who better to deliver the goods than New South Wales' own Blinds by Peter Meyer?
Simply Roman Blinds by Peter Meyer
Blinds by Peter Meyer presents Simply Roman Blinds, boasting timeless designs and efficient insulation properties. With small side gaps, the automated Roman blinds impede the transfer of outdoor heat through their fabric, thus, providing homeowners comfort from the scorching summer temperatures. In addition, they regulate the entrance of light, as well as providing privacy, going from a full block out or light filtered effect.