Tips for Maintaining Hardwax Oiled Timber Floors from Whittle Waxes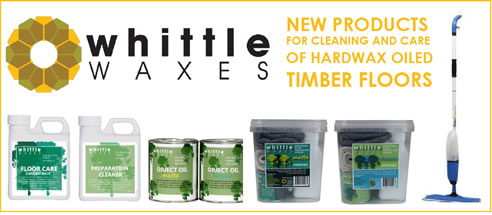 TIPS FOR CLEANING, CARE AND MAINTENANCE OF HARDWAX OILED TIMBER FLOORS
Cleaning in domestic locations:
Regularly lift off all dirt with a broom or vacuum cleaner. A vacuum cleaner is the easiest and most efficient way of increasing the longevity of a floor finish, as it lifts the abrasive particles of sand that grind away at the surface.
N.B Your Hardwax finish will take about 10 days to reach its maximum strength, both physically and in its moisture repellent properties. Please refrain from mopping the floor for a week or so and take care to soak up anything spilt on the floor.
Cleaning:
Whittle Waxes Floor Care Concentrate
NEW highly concentrated formula, add 1/2 of a teaspoon of Floor Care Concentrate to one litre of water.
Spray N Glide Mop
Makes it quick and easy to clean your floors. It has a detachable water dispenser so you don't need a bucket, you can simply fill it with water and Whittle Waxes Floor Care Concentrate and go.
Maintaining:
Marks, fine scratches or more persistent stains can be removed with Whittle Waxes Object Oil.
This should be applied thinly to a dry clean floor and then lightly polished. Polish by hand on a small area or a floor polisher on a larger one. Occasionally freshen up the entire floor surface or hard worn areas. Initially cleaning with Whittle Waxes Floor Care. Allow it to dry thoroughly, and apply Whittle Waxes Object Oil to the area.