Architectural Ceiling Features with DecoWood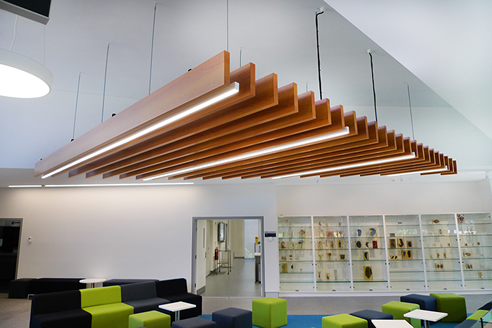 Architectural timber features offer some great looks for ceilings and high spaces and can take a room from fine to fabulous in an instant. They can achieve a wide range of looks from sophisticated, contemporary lines to traditional, rustic beams.
However, natural timber is not always appropriate for high ceiling applications due to its heavy weight making it hard, and sometimes dangerous, to install. For outdoor applications, timber becomes a nightmare to maintain and will always require ongoing maintenance to keep your feature looking fresh.
DecoWood, Australia's premium woodgrain finish, is the perfect solution for timber-look ceiling features. The finish can be applied to hundreds of aluminium profiles, offering a light-weight timber alternative for large and bulky extrusions or for shapes where real timber simply won't work.
Better still, DecoWood will withstand Australia's harsh environmental conditions, never needs painting or staining, and will maintain its original appearance for years to come.
To view 5 Architectural Ceiling Ideas with DecoWood click here.