Glazed Rooftop Hatch Melbourne from Gorter Hatches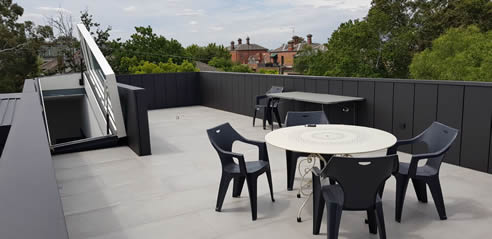 Case study: Glazed Roof Hatch - Melbourne
The Gorter Hatches Glazed Hatch was recently used on a new three-story home on a leafy street in Hawthorn, Melbourne, to allow access to the rooftop terrace area. The Glazed Hatch allowed its brand-new owners to view the spectacular fireworks in the CBD during New Years' Eve 2018. The rooftop is also enjoyed by the owners' teenage sons, who utilise the newly-created space to relax with friends.
Gorter Hatches' Glazed Roof Hatch is built to withstand even the toughest weather conditions, and is commonly used for access to roof terraces, roof gardens and emergency escape routes, and is ideal for homes and office buildings with few windows, bringing natural light into any space.
The Glazed Roof Hatch is opened and closed with the push of a button, triple glazed to withstand even severe weather conditions, and like all our roof hatches, is a simple, practical, and cost-efficient alternative to vertical roof door construction.