Unique Ceiling Feature from Keystone Linings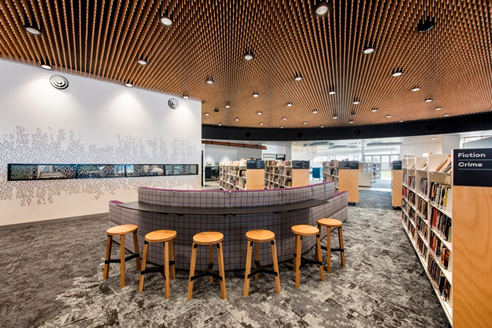 Aldinga Library
The new Aldinga Library opened in February 2017, featuring meeting rooms, a coffee lounge, free internet access and more. Guy Surfaces and Keystone Linings worked collaboratively with Brown Falconer Architects and Shape Group to deliver a unique ceiling feature made from coloured MDF and 42,250 pine dowels - over 8 kilometres worth!
The ceiling panels installed throughout the expansive interior provide a high level of acoustic performance, which create a lovely, ambient atmosphere for locals to read, study or simply relax.
KEY-CUSTOM - CUSTOM FEATURE CEILING FEATURING KEY-LENA
If you are looking to make a statement while maintaining top quality acoustic properties, Key-Lena is an excellent choice for ceiling or wall decorative panels. With an extensive list of pre-finishes available to choose from, Key-Lena opens up the door to your creativity by allowing you to customise colours and finishes for your choice of slotted or perforated sheet styles.
Cost-effective and long lasting, Key-Lena ceiling and wall decorative panels are suitable for a variety of applications, both commercially and residentially. They can give your space a pop of colour with various finishes, or choose timber for a more natural look.