Shading with Open Folding Arm Awnings in Perth from Blinds by Peter Meyer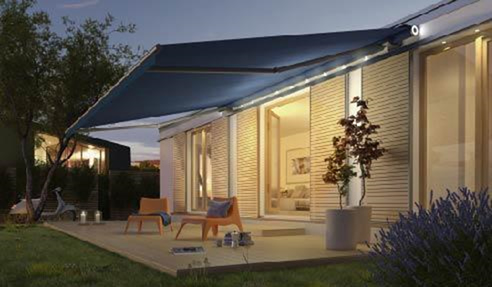 Blinds by Peter Meyer highly recommends Livona as the ideal open folding arm awnings in Perth, which gets up to 9 hours of sunshine on the daily average. The stunning range from weinor, German-based shading system providers, makes for atmospheric outdoor living possible in the sunniest state capital of Australia.
Livona Open Folding Arm Awnings in Perth
The highlights of Livona is the technically and optically puristic design as well as the stunning new range of Acrylic and polyester fabrics. The awning features an ultra slim front profile and an invisible carrier barrier. The steel carrier bar is concealed behind the fabric roller bearing, virtually out of sight. The setup also offers an unobstructed view of the fabric. With elegant aluminium side caps, Livona only requires two brackets up to a 600cm width. Suitable for larger widths and projections, the awning has a standard valance with a straight height of 12cm.
Other cutting-edge design features of Livona include the weinor LongLife arm, an exceptionally durable and resilient belt. Quiet in operation, the LongLife arm is tested to more than 100,000 cycles with no maintenance needed. The belt joint is integrated with die-forged aluminium for a light, yet robust mechanism. The LongLife arm includes a 10 year warranty from weinor.
For balmy outdoor evenings, Livona boasts atmospheric lighting with warm white LED light rings. The innovative light package includes 2 LED lights right on the side cover plates, and an ultra slim LED light bar up to 600cm in width. With simply ON/OFF functionality the LED lights can add ambient light to any outdoor entertaining area. Livona is a highly popular choice for capturing an ethereal atmosphere in outdoor settings during the evenings.