School Hall Dividers for Exams from Portable Partitions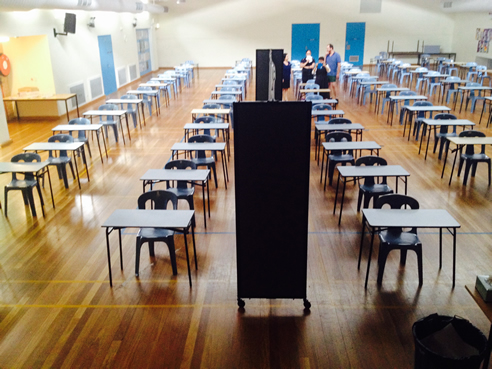 How Portable Room Dividers Can Cluster Students During Exams
Exam week is usually that time in a given school year where students worry - a lot. They are concerned for the most obvious reason - fear of failing an exam, which is naturally good. So they know what they need to do during 'hell week' - bury their heads in books and hope to pass the exams in flying colours.
For school administrators, they have to ensure a conducive testing environment for their students - to make the most perfect grid of seating arrangement possible, where chairs are spaced out squarely in between to avoid the naughty few who can't keep themselves from peering on their seat mate's test paper, hoping to catch a glimpse of those lingering, forgotten answers to a few familiar exam questions.
In Maronite College of the Holy Family (MCHF) in NSW, their multipurpose hall was converted to become an exam venue. But it was not set-up to hold just one type of exam. The hall was chosen to possibly allow multiple exams of different grade levels to happen at the same time. From the yearly exams of year 7-10 students and the Prelims of year 11, to the HSC exams for the year 12 graduating students, all their concluding exams for the school year were crammed from October to November.