Skylight Installation: DIY or Professional with Attic Group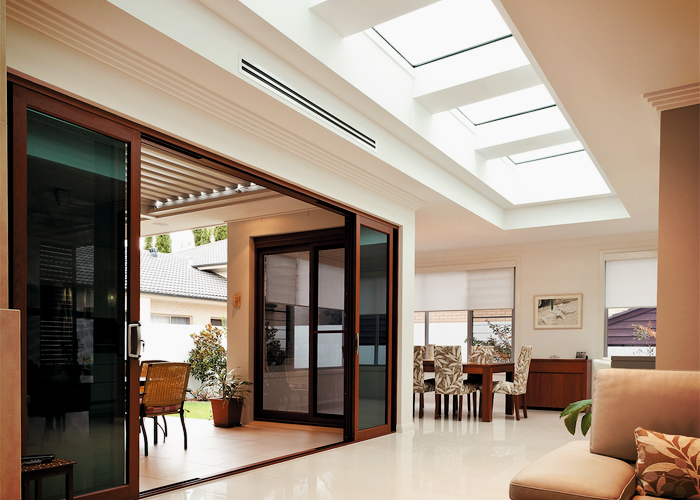 Skylight Installation: DIY or Professional Installation?
So you're about to purchase some new skylights for your home and are considering saving some money on installation. If your skylight choice is pretty standard and you consider yourself handy it can be a straightforward process. Basically, all that is required is to decide the location and size of the light shaft relative to the skylight and the room then measure up and install. Okay, there are a few more steps than that, but you get the idea.
Before You Start Your Skylight Installation
Before beginning your skylight installation project, there are a few important things to bear in mind. With so many lifestyle benefits to gain from a skylight installation in your home, it needs to be done right to get the most out of your investment.
Choose a Quality Skylight
Skimping on quality can be a costly mistake; quality factors such as energy efficiency, glass strength to resist the elements, and air pressure are important considerations before buying a skylight. Australian weather can turn nasty pretty quickly, so when a hail storm strikes, you want to be sure your skylights can take the punishment. It is also worthwhile to choose a self-ventilating skylight that can be opened to let the air in.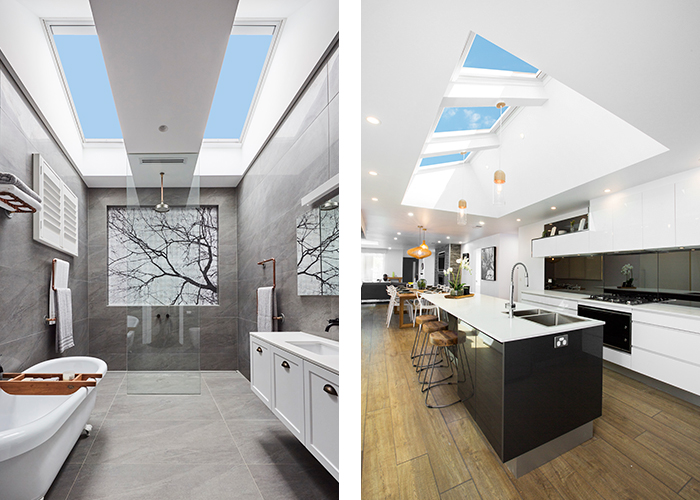 Choose the Placement of Your Skylight Carefully
Most rooms in your home can benefit from the extra natural light brought in by skylights, but the placement within that room is largely determined by the configuration of your roof rafters. Make sure you understand the implications of this before cutting away at your roof space.
Take Safety Precautions, Especially at Height
Working at heights on rooftops and in ceiling spaces can be very dangerous. Make sure that you practice safety at every stage of the project and wear appropriate safety gear. Avoid wobbly ladders and use a harness when working on rooftops. Be wary of stepping on soft spots and falling through the plaster of your ceiling, as well as stepping on loose tiles or shingles on the roof, causing you to slip and fall.
Work From the Inside First
It is far easier to start from the inside to mark where to cut on the outside, on top of the roof. By driving nails at each corner of the rectangle outline where your skylight will be installed, you will be able to accurately locate where to cut the hole from the exterior.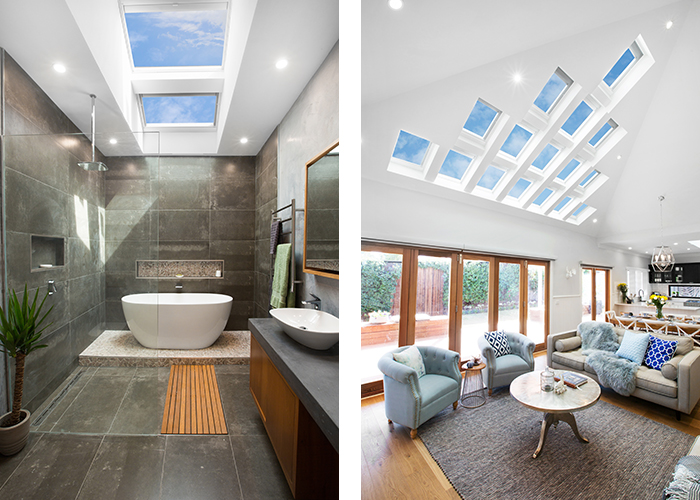 Avoid Wet Weather
Any prolonged rain will ruin your installation project unless you can properly mitigate for it, so it is important to plan your install during a period where there is little to no chance of bad weather.
Waterproofing
Making sure your skylight is properly sealed and water proof is not only important to the enjoyment of your new installation, preventing condensation and water leaks, it also will also extend the life of your new purchase. Water leaks and moisture buildup can rot the wood as well as cause rusting and corrosion of the metal components.
Why Choose a Professional Skylight Installation from Attic Group?
The recommended alternative is to have your skylight installation carried out by experienced, licensed professionals. By getting your new skylights professionally installed, you gain piece of mind that the process will be completed quickly and properly, ensuring that your home improvement investment doesn't back-fire with unexpected problems that can result from a poor installation.
A professional skylight installation removes the potential headaches of DIY, freeing up your time to do other things that are important to you.
Here are some more reasons to get an installation from the n Attic Group* installer:
You'll get an expert opinion on skylight placement.
You're covered if anything goes pear shaped - from things you may not have accounted for in the planning stages, such as if your roof has some specific requirements.
You have the security of dealing with a licensed builder.
Our experienced and licensed installers are often able to can install skylights quicker than many DIY jobs - which means you don't necessarily need to wait for summer or longer periods of dry weather.
Free Attic Group Skylight Installation Measure and Appraisal
If you aren't sure about the pitch of your roof or any other variables to install a skylight from Attic Group, an obligation free appraisal is the perfect way to make your decision about going professional or DIY clear.
Whichever way you decide to move forward, Attic Group will be there to support you every step of the way!
*Please note that we offer our installation service on skylights purchased from us.