Raw Concrete-Look Ceiling Features for Sydney Airport by DECO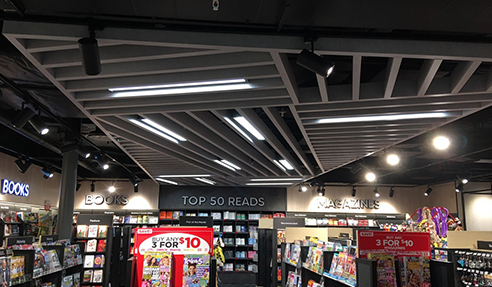 Achieve the natural aesthetic of raw concrete with DecoCrete
Achieve the trending industrial look without the weight, inflexibility, and onsite logistics of using real concrete. DecoCrete delivers a highly durable, quality concrete finish in a textured and gloss finish.
Currently available in three colours, the concrete look can be applied to aluminium extrusion, flat sheet, and architectural building products featured in our range. DecoCrete can be used for external and internal applications and is ideal for ceiling features, cladding, splashbacks and any other large profile application.
Colours currently include polished concrete, charcoal concrete, and light concrete. As with our other finishes, DecoCrete utilises the same advanced photo imaging sublimation technology.
The concrete effect is created by applying Super Durable powder coating to the selected aluminium, followed by the application of a realistic concrete-pattern film. The aluminium profile is then baked in high temperatures so the sublimation inks in the film can transfer into the entire depth of the powder coated surface.
For more information on raw concrete-look ceiling features, contact DECO or visit www.decorativeimaging.com.au today.