Key-Ply Interior Lining for Monash University from Keystone Linings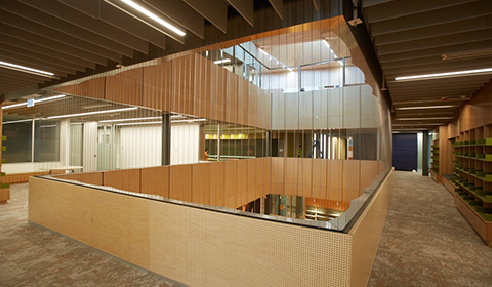 Keystone Linings' Key-Ply featured in Monash University's new Learning and Teaching Building
Monash University's new Learning and Teaching Building at the Clayton Campus brings students improved collaborative learning experience. A number of aspects - from room sizes to table shapes to the acoustic atmosphere - have been taken into consideration in the design process.
The University approached experienced and award-winning studio John Wardle Architects to bring their envisioned world-class learning experience to life. Multiplex Constructions were tasked with the construction.
The building, completed in 2018, accommodates thousands of students each semester across 4 floors containing a total of 68 formal learning spaces. Another key feature of the build is the amount of natural light, thanks to the creative, custom-shaped skylights.
Other facilities within the building include a number of cafes (one on each level), general store and a noodle bar.
There was a range of materials used, including:
Key-Ply curved panels (using Gen-Eco Bendy Ply) pressed with a hoop pine veneer and coated with a whitewash finish - supplied solid.
Key-Ply hoop pine plywood - supplied solid and perforated.
The use of timber helped the build achieve a 5 Star Green Star sustainability rating.
The project has also won a number of awards in 2018, including:
National Award for Educational Architecture, AIA
National Award for Interior Architecture, AIA
Award for Interior Architecture, AIA
Award for Educational Architecture, AIA
Contact Keystone or visit www.keystoneacoustics.com.au for more information today.