Aluminium Architectural Products Visit by State MP at DECO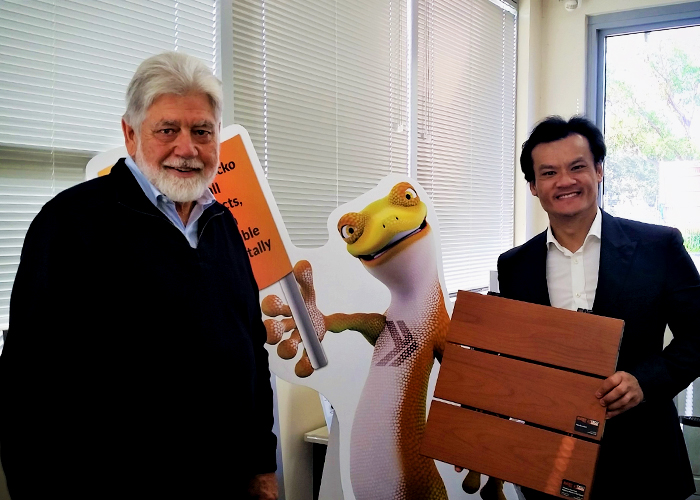 State MP visits DECO to support Australian manufacturing industry
NSW Labor MP and Member for Macquarie Fields, Anoulack Chanthivong visited building product and metal finishing manufacturer DECO Australia at their Minto factory on Wednesday 18 March. The state MP toured DECO's facility to broaden his understanding of the technical manufacturing processes of DECO's aluminium architectural products and industrial finishes, as well as to gain an insight into the company's extensive in-house testing and research facilities.
"DECO is a world-class, innovative local business manufacturing excellent products and providing local jobs for the fast-growing south west Sydney region," Mr Chanthivong said.
Mr Chanthivong met with DECO Director, Ross Doonan to discuss the combustible cladding crisis in Australia, and how DECO's timber-look solid aluminium building products, such as DecoClad and DecoBatten, offered a viable solution that state and federal governments could be made aware of for upcoming building projects.
"Local, state, and federal governments need to know that there are attractive, durable, fire-safe materials available," said Mr Doonan. "Government bodies have the option to specify quality, Australian-made products which they can rely on to comply with Australian Standards as well as supporting Australian manufacturers at the same time."
The State MP was impressed with DECO's sublimation and anodising capabilities, and how these could provide more durable, long-lasting, and low-maintenance options for a range of applications within governments, transport industries, and the defence force.
DECO Australia continues to lobby for governmental support for all manufacturing businesses to ensure a thriving manufacturing industry within Australia.
For more information about DECO visit www.deco.net.au.