Timber-Look Outdoor Spaces with DECO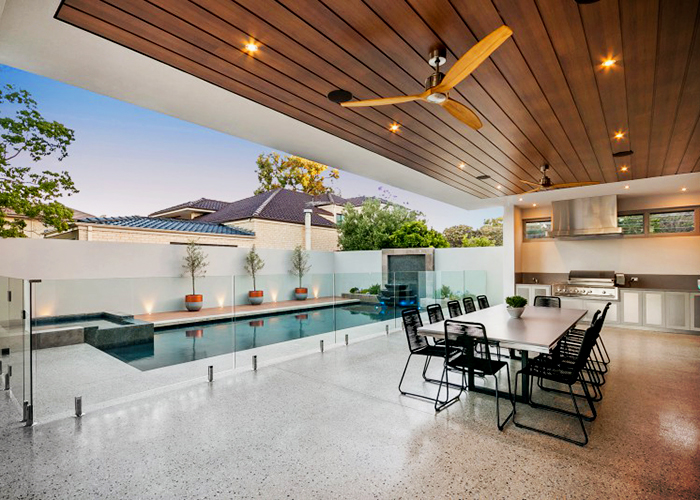 Innovative Outdoor Spaces with DECO
Outdoor entertaining spaces are an important part of home and landscape design today. Creating an on-trend, attractive outdoor space can present a challenge, but DECO has some stylish options to help design the ultimate outdoor area.
Enhance your backyard with a deck
No garden or outdoor area would be complete without a deck. Decking adds a functional space to a backyard, ideal for family gatherings or quiet time alone. Add a bit of innovation to a decking design by utilising the leftover decking material as a seat or built-in storage box, or by creating an extended living area that flows from the indoors to the outdoor space.
DECO's timber-look aluminium decking product, DecoDeck, is a premium, durable, and attractive decking product for an effortless outdoor space, designed to endure even the harshest of Australian conditions.
Elegant batten privacy screens
The only thing that makes an attractive outdoor space even better is making it more serene and private, blocking out the prying eyes of the neighbours with a timber-look batten privacy screen. As well as adding some much-welcomed privacy, batten privacy screens allow light and shade into the space, add warmth to a garden or courtyard and pair well with native plants or add a stunning contrast to modern materials such as concrete or brick. Batten privacy screens can be spaced narrowly for extra privacy or widely for a more open space.
DecoBatten, the elegant timber-look batten system by DECO, offers a highly durable timber-look batten option ideal for privacy screens, minus the maintenance and weathering of real timber, and with the added bonus of a wide range of sizes for mix-and-matching and unique designs.
Decorative ceiling panels
If your outdoor area features an overhanging ceiling, this can be incorporated into an atmospheric backyard design by adding a cladding product to it. Cladded ceilings can be a visually pleasing statement feature, as well as creating designs where undercover areas seamlessly transition into the rest of the outdoor space.
DECO's timber-look cladding product, DecoClad, offers an aesthetically stunning alternative to timber-clad ceilings. Made from solid aluminium, it requires no maintenance, will not weather like real timber, and is safe for use even in bushfire areas, while retaining the natural timber aesthetic Australians adore. DECO recommends choosing lighter ceiling colours for a cladded ceiling, as being on the underside of the roof, ceilings always appear darker once installed.
A functional opening roof
A twist on the cladded ceiling, timber-look opening roof systems allow an alfresco to be opened and closed as desired. This allows your outdoor space to transform with the seasons, keeping it sheltered from strong sunlight and rain, while providing shade and shelter for a space that can be enjoyed whatever the weather. DECO partners with Opening Roof Specialists to create luxurious opening roof systems finished in DECO's timber-look finish for aluminium, DecoWood.
Mixed materials for unique designs
Make a unique statement with your outdoor area by combining different materials, colours and textures, to create contrast, add a modern look to your outdoor space, or create a one-of-a-kind statement. Combining different timber grains can add extra warmth, colour and contrast, while combining timber-look finishes such as DecoWood with neutral, urban colours such as DECO's edgy concrete-look finish, DecoCrete, can create an on-trend classic-meets-modern aesthetic.