Kliptex® - a unique product that enables most fabrics to be installed as an architectural finish over any surface - Acoustica.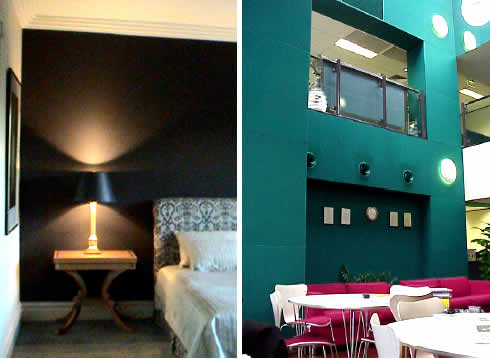 Australian made Kliptex® Upholstery.
Kliptex® framework is comprised of specially designed locking channels, manufactured from U.L. fire retardant vinyl.
Acoustic sound absorption padding material is installed within the perimeter of the framework.
The fabric is then stretched & locked into position, leaving a crisp, smooth, finished edge, with the fabric uniformly tensioned.
Kliptex® is extensively used for covering acoustic/sound absorption material for walls, ceiling, doors, etc. Kliptex® fabric wall covering may also be used for purely aesthetic reasons, eg: instead of wallpaper, timber panels, etc.
Kliptex® is constructed & installed on site, ensuring perfect alignment with other panels, or architectural details (door architraves, windows, columns or furniture). It can be applied over virtually any substrate with minimal wall preparation.
When packed with high sound absorbing foam for noise reverberation control, Kliptex® may be used in cinemas, restaurants, dining rooms, hotel foyers/receptions, shopping centres, home theatres, boardrooms, doctor's surgeries, & anywhere else you need to create an environment with soft and comfortable noise levels.
Click here to view Brochure [pdf]