Wall brochure holders from SI Retail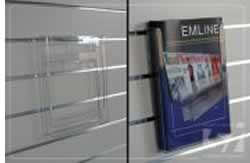 Our Expanda Stand collection is the industry standard. It is a sturdy and reliable acrylic brochure display system. Expanda Stand is available in a variety of sizes to fit a variety of fixtures.
For a wall display you can choose from a one piece holder to a versatile multi tiered display where you can choose how many levels you want to display each day. For our wall displays you will also need to purchase the relevant bracket to attach it to your fixture.
http://www.sishop.com.au/display.php?cPath=69_73