Fire Doors Sydney from Vincent Buda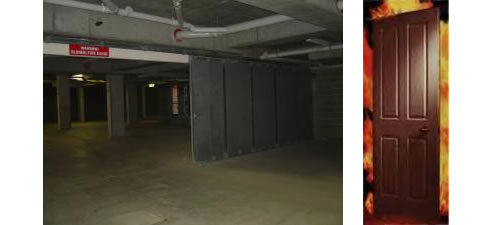 Sliding Fire Doors
- Core sliding fire doors are generally specified where the use of conventional side hung doors is impractical due to limited space, or where maximum opening sizes are required for the movement of plant or equipment.
Utilising an Australian-made nominal 38 mm thick solid monolithic E-Core board produced from natural materials (mineral fibre and asbestos free), the sliding fire door has achieved fire ratings up to 4 hours. As a result, this internal door construction gives the sliding fire door new slim line and lightweight qualities previously unavailable in similar door constructions.
These doors are designed to operate freely on horizontal overhead-suspended track systems. To enable the sliding fire doors to automatically close in fire situations, the closing mechanism incorporates an electromagnetic hold open device. This device is deactivated by heat or smoke detectors connected to a fire alarm system to close the door.
Maximum Door Sizes Available
Single leaf, bi-parting and multiple Leaf:
- 5.5 metres high and 8 metres wide (overall size)
Combination (multiple leaf bi-parting):
- 4 metres high and 15 metres wide (overall size)
Maxi Fire Doors
Vincent Buda & Company has many years of experience in Fire Doors, Supplying thousands of doors a year. We can supply frames, doors and hardware, install door and hardware, certify and tag doors and have our own door hangers. Recently completed jobs include hotels, high rise units, low rise units, factories and shopping centres and offices. Vincent Buda tag and certify doors to AS1905.1.
Our Mini fire doors are designed for a range of applications including for entrance doors for home units or hotel rooms. Mini fire rated doors are rated up to 2 hours. Our fire doors have been tested with a large range of door hardware and have many approvals. Mini fire doors can be supplied in a range of different facings and decorative moulded panels to provide that finishing touch.
Maximum Door Sizes Available
Single Leaf: 2420 mm high and 1120 mm wide
Capabilities
Fire Resistance Levels:
- 1 hour (NA/60/30)
- 2 hours (NA/120/30)
Standard door does not include bolection moulding as in the picture.