All-weather Entertaining with Vergola Louvre Roof System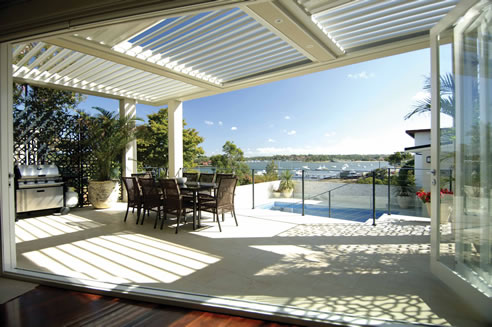 While it might officially be autumn, wet weather and cooler temperatures tend to linger at this time of year, potentially ruining plans to dine and entertain outdoors. But not if you've installed a Vergola over your patio, courtyard or deck.
With a Vergola opening louvre roof system, you can weather-proof your outdoor entertaining space. With louvres that can be adjusted to deal with most weather situations, Vergola provides unique versatility, allowing you to carry on with your lunch, dinner party or family event regardless of the weather.
In hot weather, the louvres can be adjusted to provide maximum shade depending on the angle of the sun, whilst allowing cooling breezes to circulate. Made from double Colorbond steel, a Vergola louvre roof system provides excellent insulation, which also helps to keep temperatures comfortable in both warm and cool weather.
In the event of an autumn downpour, an automatic rain sensor reacts to the slightest moisture, closing the louvres to seal out the rain. The louvres will reopen when the weather improves. All Vergola louvre roof systems are custom designed to suit the requirements of the space and the design of the home or building. Screens can also be included for privacy or to block harsh afternoon sun.
Downlights can also be fitted to enable your outdoor area to be truly versatile - it's like adding an extra room to your home.