Living Greenwall Made Afforable with VersiWall from Elmich Australia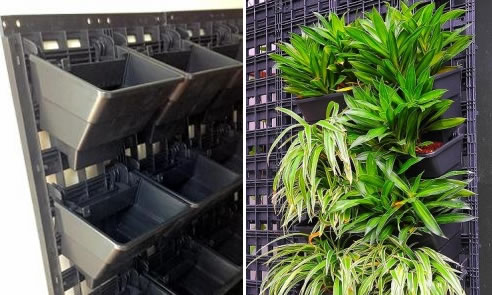 Bring nature closer with VersiWall® GP a simple solution for creating an affordable, attractive, Living Greenwall. It has never been easier to green-up your available wall space, ideal for balconies, courtyards, gardens and verandas, anywhere that you want to make the most of limited space.

Designed to reflect your preferences for plant selection, layout and density. Indulge your green thumb with a vertical herb garden, the individual trays are perfect for rotating crops, plant replacement and using different soil types creating a diverse plant pallet that would not ordinarily co-exist. The VersiWall® Mounting Panel is screw fixed to the wall and the VersiWall® GP Tray simply hooks directly onto the Mounting Panel, an anti-lift arm secures the tray in place. The Mounting Panel keeps wall penetrations to a minimum and can be safely installed by one person. Once the mounting panel is in place you can configure the trays however you choose. Though the trays are designed with a reservoir to support the plants between watering, consider an irrigation system to reduce maintenance.
Mounting Panel - Simplifies install and reduces penetrations
Safety - Anti lift arms prevent accidental dislodging
Drainage - excess water flows into underlying tray
Baffle Plate - Distributes irrigation
Plant Density - Variable vertical and horizontal spacing
Reservoir - each tray contains its own water storage
Irrigation - concealed between and to the rear of trays
Trays can be installed on different mounting options