Traditional Fireplaces Come Alive from EcoSmart Fire




Breathing new life into old hearths

Traditional fireplaces come alive with new VB2 EcoSmart Burner. A flicker catches your eye. This traditional, yet modern room has something special that draws you in. It's EcoSmart Fire's latest release - the VB2 Burner - nestled perfectly in an original fireplace with new complementing old. EcoSmart's VB2 Burner has been carefully and cleverly designed to convert existing traditional fireplaces into clean-burning bioethanol fireplaces. Whether it's an Edwardian, Federation, Art Deco or Art Nouveau fireplace, the VB2 Burner will modernise and redefine any room. "Nearly every home of the earlier eras has a non-working fireplace - they might contain candles, pine cones or other accessories, or they might be covered over - but everyone aspires for them to be working again, whether for ambience or to warm up a room. Well now there's an easy way to achieve this," says Stephane Thomas, director of The Fire Company, creator of EcoSmart Fire. "The VB2 Burner enables these functional structures of yesteryear to be restored to again become beautiful focal points of these homes. It immediately breathes life into previously redundant fireplaces and adds that extra spark to a room." EcoSmart Fires use bioethanol, a clean-burning eco-friendly fuel that doesn't require a flue or chimney. Finished in black, high heat temperature paint, the VB2 Burner holds two litres of bioethanol, allowing it to burn and warm a room for up to six hours. Moving to modern Hugely popular Channel Nine renovation show The Block recently provided the quintessential traditional-to-modern renovation with a Victorian South Melbourne terrace. But when contestants Andy and Mike dressed their beautiful fireplace with a football, the boys' were easy targets for the wrath of judges and viewers alike at this blatant missed opportunity. "Fireplaces were originally established to bring warmth into a room, and they became a feature of brilliant craftsmanship and beauty," says Thomas. "Over the years they might have lost their appeal or deemed too hard to use and maintain. "With the VB2 solution, the revival of old fireplaces and 'move to modern' operating fireplaces can be easily achieved."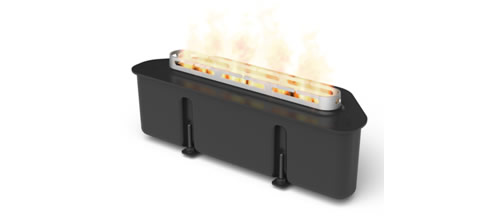 Ease of use No longer the exclusive domain of expert interior designers, converting an old fireplace couldn't be easier with EcoSmart Fires. The purpose-designed VB2 Burner simply sits within the grate in the fireplace. The fireplace can be styled according to the room, ensuring an immediate transformation. The VB2 Burner is designed to be easy to install with little ongoing maintenance. By being easily switched on and off as required, this helps keep running costs to a minimum. The collection The VB2 EcoSmart Burner extends the ever-evolving EcoSmart Fire Collection. The release of Scope 700 last year as part of the EcoSmart Fire Grate range has been hugely popular in transforming existing fireplaces into modern conversions. "In developing the Grate range, whose models are based on square lines or flat bases, we received feedback that 'kidney-shaped' burners to fit a range of grates are particularly sought after - and the VB2 fulfils this need," Thomas explains. "In addition to the specially created shape, the VB2 features self-levelling feet, which makes it even easier to install. "Simply put, the VB2 Burner ensures fireplaces are no longer outmoded features of a home, but rather functional, elegant focal points."


02 9997 3050
Unit 2/ 2-12 Tennyson Road, Gladesville NSW 2111