Underfloor Insulation by Expol from Austech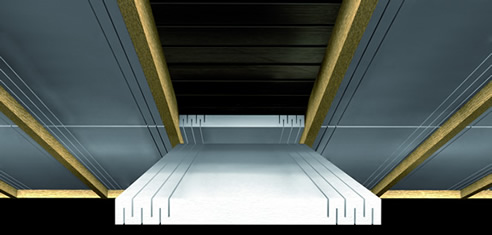 Get warmer feet this winter! Insulate your home with Expol
Expol Underfloor Insulation is the preferred choice when insulating your home. Stop heat entering in summer and escaping in winter, enjoy warmer feet and save around 12% on your heating bill. Expol Underfloor Insulation is safe and easy to install and can be applied to both new and existing homes.
Ceiling insulation stops hot air leaving your roof, but does nothing to inhibit heat lost from the walls and floor. A floor allowing a draught in can lead to ceiling insulation to be almost useless when cold air blows through.
Expol is designed to dramatically improve energy efficiency and reduce heat transfer from the floor. Expol has a minimum R-Value of 1.4 which exceeds the current recommended R-Value for timber floors.
All panels are concertina cut on both sides to allow for a compression of up to 20mm for ease of installation, and to ensure a snug fit between the joists. Expol is designed that it can be easily installed by the homeowner, or Austech can recommend a qualified installer to do it for you.
Expol is ideal for both new homes and retro-fitting into existing homes.
Don't miss out this winter. Visit Austech online shop