Perforated Acoustic Ply Ceiling Panels from Keystone Acoustics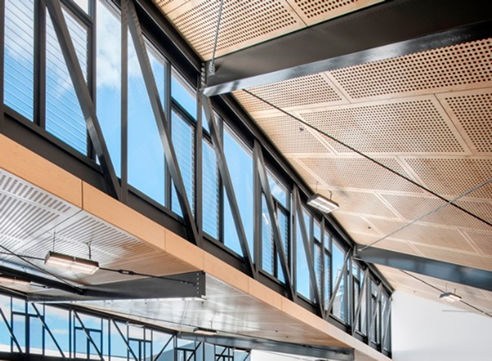 PROJECT: State Drill Core Library - South Australia
PRODUCT: KEY-PLY perforations ceiling panels
The are images of the recently completed State Drill Core Library. Designed by Thomson Rossi Architects, Keystone Acoustics worked closely with the architect, Builder (Hansen Yunken) and Installer (Laser Linings) to achieve this outstanding result.
Thomson Rossi had the following to say: "Thomson Rossi were greatly assisted by the Keystone Acoustics team to realise our vision of a grand space for the all-important core viewing room or "Discovery Room" as it has now been named, in the new state of the art South Australia Drill Core Reference Library, opened in March 2016.
The perforated acoustic ply ceiling is highly visible and contributes enormously to the significance of this pivotal space, adding both warmth and drama while maintaining acoustic performance of the highest level. Keystone acoustics worked closely and collaboratively with the design team at Thomson Rossi to provide technical assistance and to reduce cost to ensure this important design feature could be realised within challenging budget constraints for the wider project."