Hampton Style Insulated Vinyl Weatherboards and Trims from Austech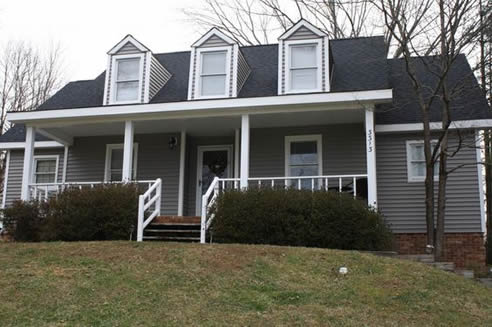 "Hampton Style" Weatherboards & Trims
Search Pinterest for Australian Hampton Style and you the beauty and simplicity that makes this architectural style so attractive to the modern Australian family.
In almost every post you will see the gentleness of traditional timber look shiplap and chamfered weatherboards and the nostalgic white window architraves of a bygone era. Both have been so absent from the new construction market of the last 50 years with its' staunch "brick & tile mentality."
The inspiration for this styling has undoubtedly come from the manicured suburbs of North American cities where the greatest percentage of home exteriors are constructed using uPVC products such as Royal Select Vinyl Weatherboards and Triple Glazed Windows.
The other visible component of "Hampton Style" is the use of Grey tones in the colour scheme. Blue Grays, Green Greys, Brown Greys, Soft Greys, Bold Greys, just about every Grey imaginable to a man with bold white vertical and horizontal trimmings.
Austech External Building Products are the National Distributors of Royal Building Products, North Americas leading manufacturers of uPVC Weatherboards, in Australia. Our colour range of Vinyl Weatherboards is ever expanding to meet the discerning buyer's demands. We currently stock 14 colours and can "special order" many more.