Hillmont Braille Signs and New Technologies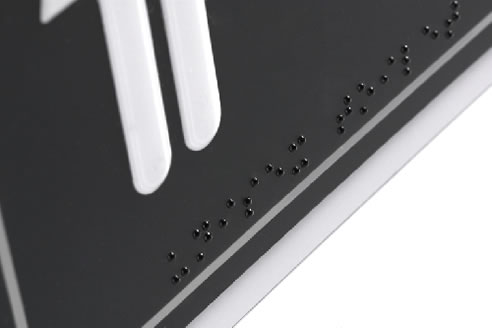 Hillmont Braille Signs is one of the most successful and innovative manufacturers of Braille in Australia and have been manufacturing and supplying Braille/tactile and general signage solutions throughout Australia for over 15 years from our Northwest Sydney location (now based at Castle Hill).
We are also able to advise you on the compliance of your designs and new technologies for Braille.
Hillmont Signs uses Grade 1 U.E.B. (Unified English Braille) which is the current standard for Braille in Australia with all of our designs meeting or exceeding the requirements of D3.6 of the Building Code of Australia and AS1428.1 of the Australian Standards.
High profile projects include the award-winning wayfinding system at the University of Sydney, many of the facilities for the Sydney 2000 Olympics as well as the Epping to Chatswood railway and Braille signs inside the new Oscar railway carriages. We offer a wide selection of Braille and tactile signs for Australian buildings, and can advise on the BCA requirements. Visit www.hillmontbraillesigns.com.au
You are most welcome to visit our Castle Hill showroom and factory, email us or phone to discuss your needs (see contact details). Samples can also be provided.