Modular Textile Plank Flooring from Forbo Flooring Systems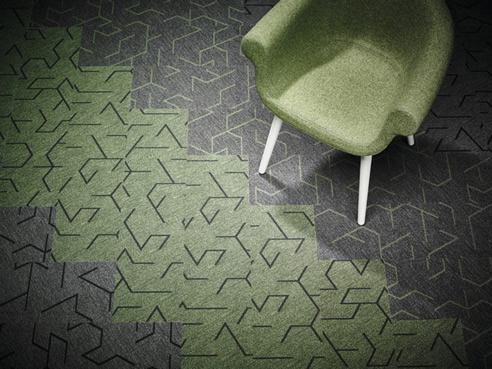 Flotex Textile planks by Forbo Flooring Systems
As modular flooring continues to increase in popularity, Forbo has developed the new Flotex plank collection, allowing users to create stunning, contemporary floor designs where safety, hygiene and well-being are priorities.
Flotex plank combines the comfort of carpet, the durability of a resilient floor covering and the design versatility of a planks. The new collection fits contemporary workspaces, as well as very high traffic areas in hotels and schools.
Offering six new designs: Triad, Box-cross, Lava, Seagrass, Concrete and Wood, in plank sizes of 100 x 25cm, the collection provides endless design possibilities, from colourful and complex layouts to minimal, sophisticated aesthetics, which use shape and pile direction to create a stimulating floor pattern.
Flotex is well known for outlasting other textile flooring options along with providing healthier indoor air quality as dirt and allergens are easily removed by vacuuming. Flotex releases 30% more dirt during cleaning than conventional carpet and has the British Asthma and Allergy Foundation seal of approval. Additionally, Flotex can be washed and appear as new year after year.
Flotex is manufactured from 100% renewable electricity sources and production is SA8000 certified. SA8000 is an auditable certification standard based on the principles of international human rights, such as child labour, forced labour, safety and remuneration.
www.forbo-flooring.com.au/flotex