Lift Servicing Considerations from Shotton Lifts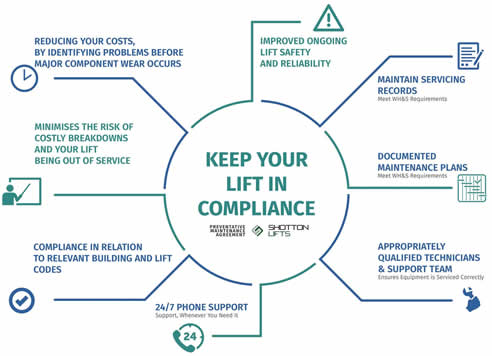 Factors you should be aware of when considering servicing of your lift
Safety checks significantly reduce the chance of injury.
Your lift, just like a car, has many parts that need to run harmoniously together for it to work safely or at all. Shotton Lifts are built to the highest quality to meet Australian Safety standards. Over time there is a chance that integral parts will deteriorate if not serviced and maintained.
As part of our standard service, a list of safety checks is carried out that are designed to find potential faults. This leaves you with the peace of mind that your lift will run as intended.
All our service plans are tailored individually for every client
Nearly every lift has different usage and situations which can significantly vary the level of service and safety check requirements.
We take all these things into consideration when developing your tailored service agreement removing any unnecessary costs and wasted time resulting in a service agreement that reflects your needs exactly and keep costs to a minimum.