Robust Floor Expansion Joints by Unison Joints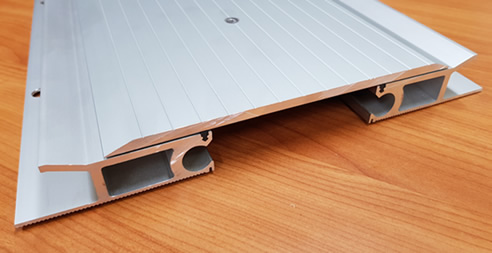 Unison Joints offers a wide range of robust floor expansion joints for a broad range of building-traffic applications. The Australian-owned and operated company continues to establish itself as industry leader in providing innovative and long-lasting building movement joint systems.
Flexible Choices: Robust Floor Expansion Joints
Robust Floor Expansion Joint Systems are either heavy-duty, extra heavy-duty, or designed for use in some type of harsh or high-movement environment. Robust Floor Expansion Joint Systems include FxCH, DzH, ByC, ByD, ByN and SiBy type coverplate systems
Flexo-CH
FxCH is an aluminium-expansion-joint-cover-system with extruded aluminium coverplates. The whole system, is very neat (see photo), with wide extruded/ramped edges for use in concourse areas such as airport terminals, stadium, convention-centre and other concourses. FxCH has a higher profile than other 'robust' Unison systems as it is designed to be integrated with a range of floor finishes including: ceramic tiles, carpet, carpet-tiles, vinyl, painted concrete and other finishes. Standard coverplate widths are 130mm, 165mm, 220mm and 300mm. The coverplates have anti-slip grooves and conform to a P3 (X) rating when tested according to AS4586. This system can be used is seismic applications.
Designer H
Designer-H is a heavy duty floor cover plate system, specially designed to accommodate heavy rolling traffic whilst presenting an aesthetic finish for use in retail and similar environments. Originally designed (and specified) for use in Masters 'bulky-goods' stores, it can facilitate pallet trolleys, forklifts, scissor-lifts and other large slow-moving equipment. Designer H is a low-profile system for integration with polished concrete, exposed aggregate, and sealed concrete. It can also be used with other floor finishes.