Waterproofing Membranes - An Ultimate Guide by Projex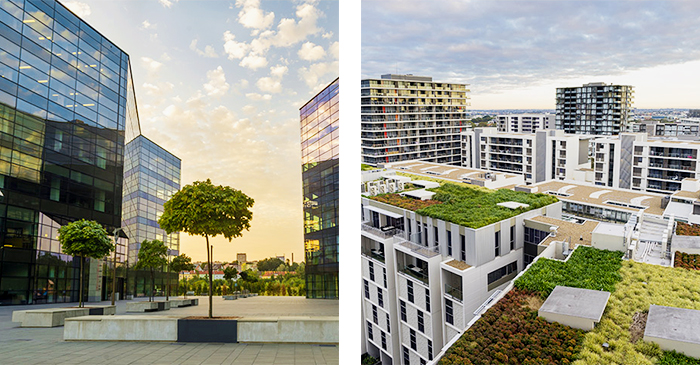 Waterproofing Membranes: The Ultimate Guide
Water can cause major damage to buildings. This damage can lead to significant financial loss as well as safety issues if the foundations are not adequately waterproofed and protected. But it can be prevented with the application of waterproofing membranes. All commercial, industrial, and residential properties benefit from waterproofing membranes.
1. What is a waterproofing membrane?
A waterproofing membrane is a layer of water-tight material that is laid onto a surface to prevent water leaks or damage. Waterproofing membranes generally consist of liquid applied or pre-formed sheet membranes. They can be adhered or installed around the foundations (like a structural slab) to prevent water penetration. Whether it's to protect your building's basement or roof, waterproofing will help stop water from infiltrating your foundation and protect your structure from water damage.
Since the Australian climate is extreme, choosing a high-quality and durable waterproofing membrane is important. A good waterproofing membrane is able to withstand domestic and industrial chemicals, as well as building movement.
2. Why is it important?
Sometimes the waterproofing component is omitted from construction completely, while others are of such poor quality that each year many commercial premises and residential properties report water damage due to inadequate waterproofing. Water-related issues account for 80% of a building's defects. There's no doubt about it, waterproofing is important for protecting your property and its value. The benefits of quality waterproofing include;
Protection from leaks and water damage:
Water leaks can result in damaged furniture, carpeting, and moisture staining the ceiling or walls, and structural issues.
Safety:
Damage due to lack of waterproofing can be so severe that it impacts the integrity of the building making it unsafe to inhabit.
Strengthens the structure of the building:
Waterproofing membranes prolong the lifespan of a building by limiting any moisture that may intrude and cause rust, rotting, corrosion structural defects, or property and contents damage.
Protects from mould:
Water leaks can result in damaged furniture, carpeting, and moisture staining the ceiling or walls, and structural issues.
Provides a healthier environment:
Waterproofing helps to create a clean and healthy space that is well-maintained and protected from the elements. Moisture build-up, especially in the walls and ceilings, can cause fungus and mould growth which can lead to allergies or health issues such as asthma, congestion, and a weakened immune system.
Reduces maintenance costs and increases property value:
Quality waterproofing - done right the first time - will safeguard your property from water damage and limit the need for costly repairs or maintenance. When it comes to re-selling your property, you can rest assured that it will be free from any water damage or issues with leaks, which negatively impacts the re-sale price.
Incorrectly applied waterproofing solutions can wreak havoc on your property. When waterproofing fails it can contribute to an issue known as 'concrete cancer', the corrosion of the steel reinforcing in the slab causing the surrounding foundations to crack and fall away. This can also result in the costly exercise of removing tiles/finishes to repair the concrete, membrane, and reinstalling them.
3. Waterproofing membrane applications
Regardless of the scale, size, location, or type of building, waterproofing membranes are an essential component necessary to protect the building's structural integrity and its inhabitants. There are different types of waterproofing membrane applications. Most commonly these include the roofs, balconies, terraces, etc.
Other common areas include;
Tanking/Basements.
Flat roofs (including Green Roofs).
Plant rooms.
Podiums and balconies.
Retaining walls.
Garden beds and planter boxes.
Concrete water tanks.
Containment and bunded areas.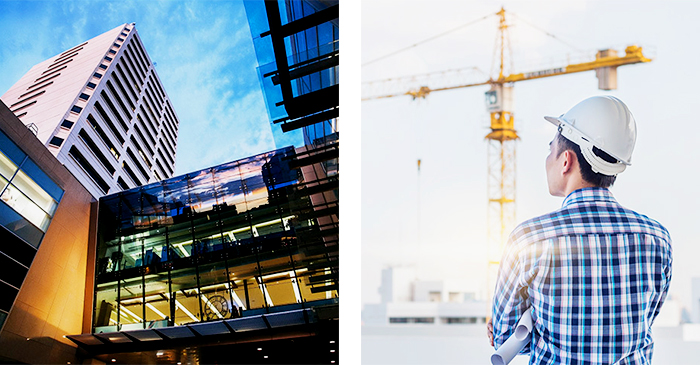 4. Industrial, commercial and residential properties
The waterproofing of commercial and large-scale residential properties is essential (especially in flood-prone and areas affected by the water table). Commercial buildings are slightly different to the average residential property, since they are larger and experience more wear and tear over the years. Here are some important waterproofing applications that can apply to both commercial and residential properties;
Foundation waterproofing

One of the worst things that can happen to the structure of a building is a foundation problem. The foundation is literally what keeps the building in its place, and anything impacting this can make the entire structure unsafe. Many foundation problems in commercial and residential properties can be attributed to water/moisture ingress.

Wet soil beneath the building's foundation causes the earth to swell, expand, or lose strength, leading to structural cracks and even damage to expensive equipment. There are various waterproofing systems used for foundations including liquid-applied and sheet membranes, and it's very important to ensure adequate drainage is incorporated in the design.

Roof waterproofing

Commercial properties in particular benefit from quality roof insulation and waterproofing. These large buildings undergo a tremendous amount of strain. Many parts are susceptible to leaks. Roofs - especially flat roofs without adequate drainage or concrete roofs - are most vulnerable. Puddles formed on a commercial roof can hasten the degradation of existing waterproofing materials and also compromise the integrity and insulation of the ceiling.

Physically repairing or remodelling the roof is an expensive task, which is why a good solution is to apply waterproof membranes and improve the overall water drainage of the roof. Projex recommends Wolfin & Cosmofin membrane systems for roof waterproofing because these products are not affected by ponding or pooling water. However, it's always recommended to have graded falls to outlets. Concrete roofs are popular in modern architecture, with many residential and commercial properties being constructed using this method. Even though concrete is a strong material for roofing, it doesn't safeguard the property from leaks.

To avoid concrete cancer or other water related issues on a concrete roof, it is vitally important to install a membrane that is supplied as a complete system. Wolfin and Cosmofin waterproof membrane systems are a pre-formed sheet membrane with a full ancillary range of accessories to complete the entire installation. These membranes will provide long-term protection against the sun and water preventing structural damage.

Basement waterproofing

Basements, particularly old ones, tend to allow water to seep into the foundation leading to mould and structural issues. It's recommended to waterproof the basement from the outside in order to stop water at its source. If a membrane is not installed or it fails, then secondary back-up measures are required such as installing a sump pump, applying negative waterproofing products or installing a dehumidifier. However, the best solution is installing a PVC blend membrane sheeting on the external walls. Commercial buildings are at risk of burst water pipes which can lead to expensive damage if there's no proper waterproofing in place. Damp can be a persistent problem to the internal walls of concrete and brickwork basements, so a reliable prevention and repair strategy is crucial to prevent damage.

Landmarks/heritage & community buildings

Buildings that have cultural or historical significance, including popular landmarks, benefit from waterproofing. The preservation and protection of Newcastle's iconic cathedral has been guaranteed through the use of the Wolfin Waterproofing System, as well as the Conservatorium of Music and many heritage listed hotels and buildings.

The award-winning Garangula Gallery applied Wolfin waterproofing membranes to the basement tanking, podium, terraces, and roof. Wolfin systems have been used by multiple renowned Australian art galleries and museums to protect very valuable collections and artefacts. For the past 20 years, architects have been specifying Wolfin waterproof membranes to ensure that Australia's most important documents, archives, and expensive equipment are kept dry.

Even zoos benefit from waterproofing. In fact, Projex has worked with Taronga Zoo and others to install waterproofing membranes to animal enclosures. Since these buildings are so important, it makes sense to protect them from water damage.

Health facilities

Wolfin membranes have also been installed for many hospitals in Australia on areas such as roof decks, plant rooms, podium decks, terraces, tunnels, etc. In Sydney, these installations include the St George Private Hospital, Prince of Wales Hospital, Sydney Children's Hospital, Royal Hospital for Women, Liverpool Hospital, Royal Prince Alfred Hospital, Northern Beaches Hospital, and Royal North Shore Hospital.

Building gardens

With higher density living and residential blocks becoming smaller, more people are turning to rooftop gardens. Rooftop gardens are a great way to bring nature into the concrete jungle and are easy to maintain while giving the feel of an open space. Many commercial buildings are adopting this idea by providing a rooftop sanctuary for workers and visitors to relax. Some businesses are even adopting the idea of a community garden, where people can grow and harvest their own produce. Waterproofing is recommended for all types of built-in gardens including;

Residential and commercial rooftop gardens.
Balcony gardens.
Podium slabs.
Green walls.

Effective waterproofing is vital for any type of rooftop garden. To prevent water from seeping into the foundation, a membrane is used to provide a strong protective barrier to seal out water while maintaining flexibility for natural expansion.

Retaining walls

Waterproofing a retaining wall is a proactive way to reduce repair work in the future. Retaining walls are often added in commercial properties to maximise usable space. Since retaining walls hold off soil when there is a drastic change of elevation, there is always a chance of a crack or shift due to damp, and effective drainage is needed to offset the pressure behind the wall. To truly prevent water build-up, waterproofing membranes used for retaining walls such as Cosmofin & Wolfin ensure there are no points of entry for water to get in and will protect from dampness or corrosion.
5. Types of waterproofing membranes
Cosmofin
Manufactured in Germany, Cosmofin is a reinforced high-quality flexible PVC (Poly Vinyl Chloride) single ply sheet membrane that is used for commercial and residential projects to provide a complete waterproofing system. The Cosmofin membranes are 1.5mm thick, light grey, and available with or without fleece backing, allowing for all types of installation including bonded, loose laid, ballasted, or mechanically-fastened applications. It's environmentally friendly, recyclable, and UV stable. Waterproofing contractors, waterproofing applicators, or waterproofing specialists love using Cosmofin as it's supplied as a full system including three versions of the Cosmofin Membrane, factory-bonded profiles, pre-made corners, and welding solvent for connecting directly to PVC pipes. Cosmofin can be applied over most surfaces, including damp, and can also be left exposed as it's UV stable.
Wolfin
Wolfin Waterproofing Systems is also manufactured in Germany and are a single-ply high polymer roofing and waterproofing sheet membrane available in two versions: Loose-Laid (IB) and Bonded (GWSK). These Wolfin membranes are a unique combination of Polyester and PVC which provide excellent elongation and exceptional resistance to chemicals and is UV stable. Wolfin Membrane system is a single layer homogenous sheet membrane, combined with factory-bonded steel profiles, cast in reglets with pre-made corners, and PVC welding solvent.
Wolfin can be installed to concrete, timber, steel, CFC, masonry blockwork, and more. Accredited Wolfin waterproofing contractors, waterproofing applicators or waterproofing specialists, as well as architects, insist on using Wolfin because it has been a leading waterproofing system for more than five decades, and is manufactured and designed to meet the highest standards for commercial and residential buildings.
6. Ensuring your building remains waterproof
Waterproofing is a construction measure designed to prevent water damage and structural damage to a building or feature. Although many people tend to overlook the importance of waterproofing and assume it to be a costly affair when it comes to buildings, the prevention of water-based damage will reduce the need for future maintenance or remedial work. Waterproofing can be applied to any building, feature or landmark that needs proper protection.
Consider what waterproofing can do to help the structural integrity and safety of your building. To discuss your project requirements, or if you are an architect or builder/contractor interested in Cosmofin & Wolfin waterproofing membrane systems, get in touch with Projex today and ensure the long-term vitality of your property.
02 8336 1666
2/1 Military Road, Matraville, NSW, 2036