Louvred Open/Close Commercial Roofing Systems by Vergola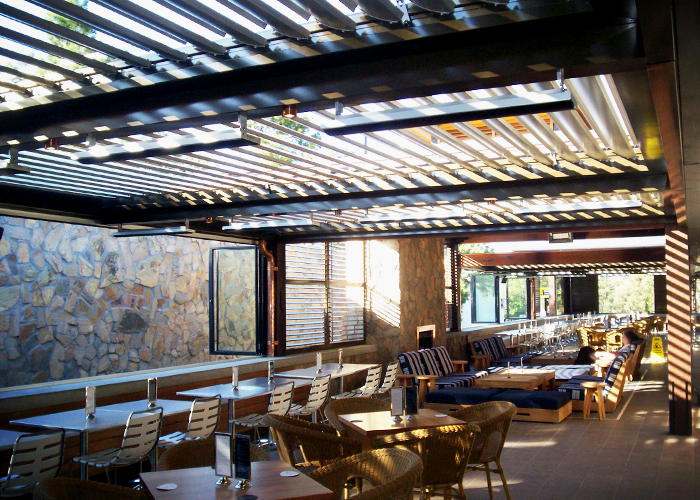 Vergolas are the Perfect Choice for Commercial Premises
Where a comfortable, controlled atmosphere is important in a commercial setting, you can't go past a Vergola louvred open/close roofing system to enhance your consumers' experience and comfort while they enjoy your business. Vergola's unique roofing systems are installed in commercial premises such as cafes, restaurants, sporting facilities, golf clubs, resorts, children's playgrounds, hospitals, theme parks, and more.
Vergola - the Original Open Close Roof System
Vergola is the only louvre roof system to receive the Industrial Design Council of Australia's 'Prince Philip Prize for Australian Design' and three Australian Design Council awards for innovation. Vergola's original roof louvre systems are the best, designed and built with expertise and superior materials for commercial premises.
Other companies manufacture open/closing roof systems, but they manufacture them using aluminium which is a much cheaper material than steel. At Vergola, we manufacture our louvres from BlueScope Steel's Colorbond, which is made in Australia, and complies with the Australian building standard AS2728). Colorbond is the material that builders prefer to use for roofing in most new Australian homes and in over 80 per cent of all gutters and fascias.
Vergola is the Best Because
Vergolas are made with Colorbond which is made with Zincalume steel and a coating of aluminium/zinc/magnesium alloy.
To improve adhesion, the surface of the steel is covered by a conversion layer.
The Vergola's louvre roof finish maintains its 'new' look for far longer due to the Colorbond Super Polyester coating technology.
Vergola louvres resist cracking, chipping and peeling due to exterior grade paint that is baked on to the surface. This results in a top class louvre roofing system which is superior to those made from aluminium that's powder-coated.
Commercial Louvre Installation

For the past 30 years, Vergola has developed special expertise and experience in louvre roof installation for commercial environments. Vergola's aerofoil louvres have two skins which allows superior insulation via air pockets to keep customers cooler in summer and warmer in winter - this is superior to single skin louvre systems made from aluminium.

When you have customers in an outdoor cafe, bistro or restaurant, being able to control the space to allow them the comfort of full shade, or plenty of natural light means your establishment is open for business all-year-round.

Vergola Designs

The Vergola roof solution can be constructed to any design or style whether raked, flat or gabled, with many bays or a single one that covers the largest to smallest spaces. The versatile Vergola is perfect for restaurants, cafes or commercial buildings that require adequate ventilation and where a top priority is the inflow of fresh air.

A Vergola can create a comfortable, energy-efficient working environment, which will lead to workers being safe, with improved moral which, in turn, increases your profits. The control unit is automated so the Vergola is remotely operated, with up to eight of the bays controlled automatically and individually. Another bonus for commercial premises is the option of connecting the fire alarm system.

Guarantees

There's a two-year warranty on manufactured parts and service and a seven-year guarantee on structural components on all Vergola louvred roofing systems. Also, for Vergola NSW customers, Bluescope Steel offers an extra guarantee on all Colorbond products.

For more information on the Vergola system just call us to arrange a visit by consultants for a design and quote or visit www.vergolansw.com.au.