Stylish Outdoor Spaces & Front Garden Trends by DECO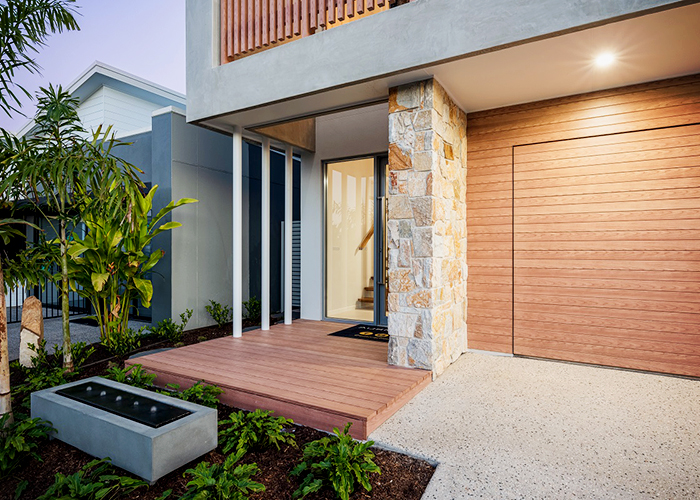 Stylish outdoor spaces: DECO's top front garden trends
Curb appeal is an important aspect of any home design. The front yard is a visitor's first impression of your home, so it is important to make a lasting impression. DECO offers a range of garden solutions that will make the front of your home memorable and are certain to impress the neighbours.
Low-maintenance timber alternatives
Efficiency is a watchword for many Australians. Conflicting work and leisure schedules mean homeowners today are constantly searching for ways to minimise time and effort, while maximising results. DECO's timber-look finish for aluminium, DecoWood®, offers an alternative to timber that exudes warmth and style, while eliminating the need for ongoing maintenance.
DecoWood mimics the appearance of real timber using a sublimated, powder-coated finish. Using a Super Durable™ finish 50% more durable than other powder coatings, DecoWood products are designed to last. No painting, staining, or oiling is required - the DecoWood finish will last for years without fading, peeling or rubbing off.
DecoWood can be applied to a range of aluminium products from DECO's range, including DecoClad, DecoDeck, DecoBatten, and DecoSlat. For a seamless garden design, try colour-matching a few DecoWood products.
Front fence flair with timber-look battens
Vertical battens are all the rage for facades, screens, walls and even garden fences. DECO's aluminium batten system, DecoBatten is ideal for an en vogue garden fence that will make others sit up and pay attention. DecoBatten can be made to replicate real timber with a DecoWood® finish, or tie in with other design elements on your home with one of DECO's new concrete-look or rust-look finishes, to give off a contemporary urban vibe.
DECO's two-piece 'Quick Click' batten system is an easy-to-install choice for adding colour to rendered front walls - the backing piece is simply screwed to the base wall, and the batten cover is easily clipped on over it for a seamless design. For framed structures such as traditional fences, DecoBatten's one-piece batten can be easily back fixed to the support structure.
Make a grand entrance with a front porch deck
A new deck can breathe new life into your front entryway, making it appealing and inviting for visitors. DECO's slip-resistant aluminium decking product, DecoDeck, is an attractive decking product that can add flair to your home. DecoDeck can be paired with any home design - it is available in 18 natural timber-look colours and a classic concrete finish.
Made from solid aluminium, DecoDeck has been certified non-combustible by the CSIRO and is an ideal decking product to use in bushfire prone areas, offering a traditional timber deck appearance without undue fire risk.
Add a trendy privacy screen
Turn your front garden into an oasis for you and the family, while still making a statement to passers-by. Decorative outdoor screening is not only helpful for increasing your privacy, it can also hide power boxes, bin bays, and other unsightly elements of your yard. DecoSlat timber-look aluminium slats are ideal for creating a trendy privacy screen that also adds a stunning timber aesthetic to your home design.
Add extra design flair
Spruce up your space by adding extra architectural details such as ceiling features or gable ends. Using DecoClad timber-look aluminium cladding on your ceiling or gable ends adds the natural warmth of timber to your home, and adds to the luxurious look and feel of your outdoor space. Mimicking timeless popular timber designs, DecoClad ceiling features and gable ends require no maintenance and will retain their timber appearance for years, offering an effortless way to add some extra class to your home and garden.
Mix it up with multiple colours and textures
Mixing materials is an enormously popular trend that is here to stay. Combining different colours, textures, and finishes can add extra personality to a yard design, and stay on-trend, embracing the industrial chic looks storming onto the market. DECO offers a range of attractive finishes including timber-look, rust-look, concrete-look and marble finishes that can be mixed and matched to create a stunning custom project.
For more information on creating your dream front garden with DECO's products and finishes, visit www.decorativeimaging.com.au.