Move up in the world with "Columbus" access ladders - The Attic Group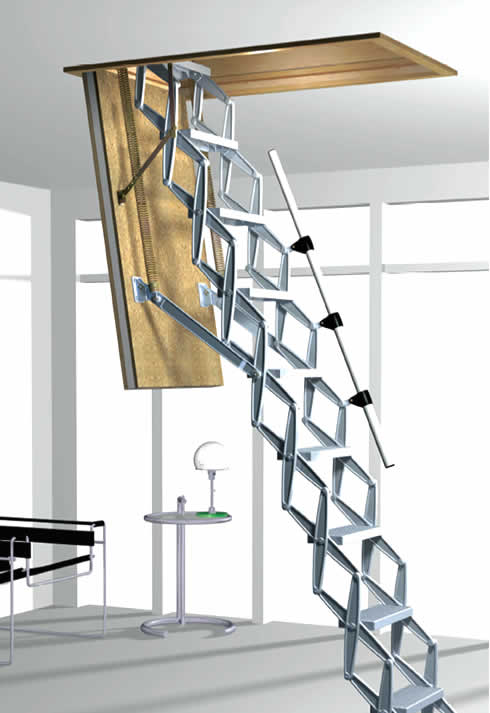 The Attic Group, Australia's leading attic ladder and access specialists, are delighted to introduce the COLUMBUS series of commercial duty concertina ladders to the Australian market.
COLUMBUS ladders are designed and engineered in Germany from heavy duty, light structural grade aluminium alloy and are renowned internationally for their superior durability and sleek, stylish form. COLUMBUS ladders' incorporate a unique "scissor" folding mechanism that uses minimal floor space and, when not in use, discreetly hides away in the ceiling. Access through suspended ceilings, directly through external roofing, even vertical walls and mezzanine levels has never been easier... a remote control mechanism can also be incorporated for a high tech touch!
According to The Attic Group General Manager, Charles Heydon, the introduction of the COLUMBUS series of ladders to the Australian market raises the bar when it comes to premium quality commercial and industrial ladders, "the Columbus range offers exciting new ways to cost effectively solve roof and ceiling access problems".
Suitable for both commercial and industrial applications, COLUMBUS ladders are a safe and effective way of accessing air conditioning equipment, telecommunication and antenna equipment, electrical switching or other plant, or as a smart storage solution for archival and other unused matter.
Available in a range of height options from 2.5 to over 4 metres, and featuring wide deep grooved treads, COLUMBUS ladders meet the DIN 4570 European standards unrivalled in Australia and are equipped to handle a heavy 200kg/tread load capacity. A nifty range of accessories are also available including optional hand rails and security locks for restricted access for authorised personnel.
The Attic Group was established in 1975 and is the market leader in attic ladders and roof space solutions.