Wondakaih water features from Wolfin Waterproofing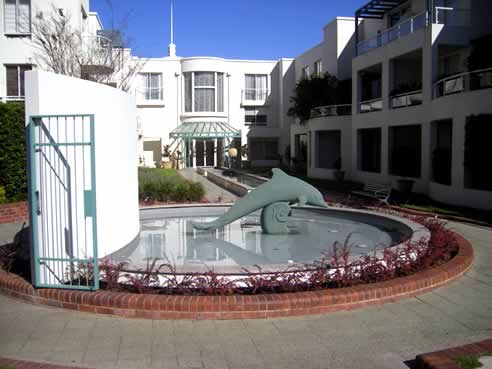 Situated on a hill overlooking Balls Head Bay, Waverton, is the prestigious Wondakaih apartment complex. Wondakaih consists of a series of residential buildings interconnected by a series of walkways and open, landscaped areas. There are several water features throughout the complex.
Several years ago Andersal Engineering Pty Ltd was contracted to repair and waterproof a large pond and waterfall at the lower end of the complex. Those works were successfully completed by Andersal using the Wolfin membrane system.
Earlier this year it was found that the water features at the Ross Street entrance (the upper level of the complex) were leaking both into the car park below and laterally onto the adjacent footpaths. The Body Corporate again contacted Andersal Engineering and asked them to carry out the repairs using the Wolfin system. Andersal subsequently installed the system on the problematic 4 ponds.
Wolfin is often used to waterproof water-features and ponds and is also regularly used with sea-water.
The Wolfin installation was carried out by Andersal Engineering, an experienced licensed Wolfin Applicator, so that Wolfin themselves were able to issue a combined labour and materials warranty on the waterproofing - as opposed to the usual separate labour and materials warranties.
Wolfin Membranes Australia can be contacted on 02 8336 1666 or kornmehl@projex.com.au. The Wolfin website is http://www.projex.com.au.
Andersal Engineering can be contacted on 02 9922 1566.