Stainless steel modular handrail - infill alternatives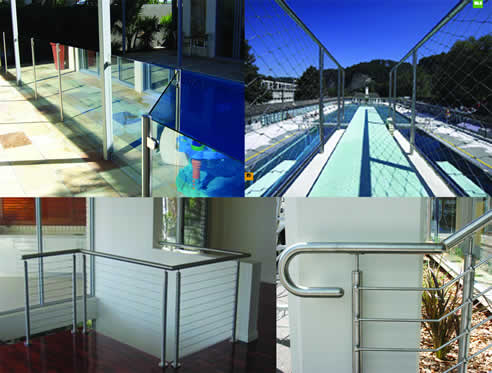 Bridco's modular handrail systems are suitable for a range of infill applications to suit your desired effect, both internally and externally.
Webnet is a custom manufactured, multifunctional structural rope system composed of stainless steel. Webnet when applied to balustrade, provides a protective yet elegant infill alternative.
Wire rope is an attractive and versatile alternative to apply as infill where stainless steel modular handrails are fitted. Wire rope may be applied horizontally, vertically or angled.
Glass for uninterrupted screening, glass is the most conventional of infill alternatives. Bridco have a large range of stainless steel glass clamps to suit glass width from 6mm to 16mm.
Our range of glass clamps extends from stainless steel to Zintec, which is an uncoated steel suitable for powder coating.
Stainless steel rod when incorporated into our stainless steel modular handrail system, gives a modern appearance with the assurance you have a secure and safe infill.
Modular Handrail Systems Catalogue