European Castle Stone CraftStone Veneer from Austech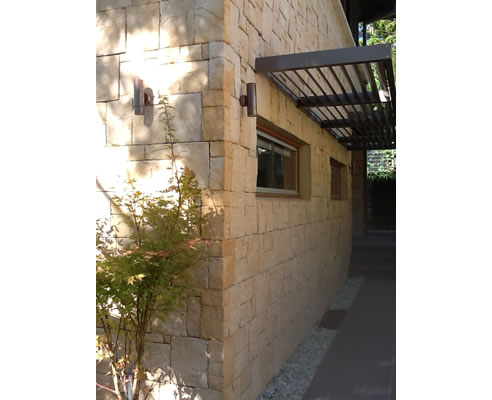 European Castle Stone offers a Natural Sandstone Appeal
The growing demand for the beauty and style of stone has led to the development of high quality natural stone substitutes. Austech offer a wide choice of CraftStone veneers in diverse profiles and colours. Amongst the CraftStone series is European Castle Stone which represents a natural sandstone finish. The result is a thin (only an inch or two thick) stone veneer that looks just like the real thing � at a fraction of the weight. So instead of piling and cementing heavy, awkward stones on top of each other, manufactured stone veneers are simply installed on any structurally sound wall using a mortar.
This profile is much pursued after by architects and builders alike, with various home owners and commercial projects opting for the product. CraftStone can be used in a number of interior or exterior applications such as:
- Feature Walls
- Pillars & Columns
- Pool & Spa Surroundings
- Chimneys & Fireplaces
- Retaining Walls
Austech provided a local Sydney residence with European Castle Stone which resulted in a stunning finish. The eye catching European Castle was used as wall cladding, for the pillars and columns as well as a feature wall. The product comes with a 25 year warranty therefore you can rest assured knowing that the manufactured stone is of the highest quality. To produce the classic appearance of sandstone, structural support is not necessary therefore installation costs are minimised and CraftStone can be fitted in places where natural stone may not.
To view a number of successful CraftStone installations and see how it has been used in the past, you can download the CraftStone Project Brochure. You can also contact the team at Austech. Austech can supply material nationwide with offices all over Australia.