Custom Built Hoist at WIN Stadium from Southwell Lifts Hoists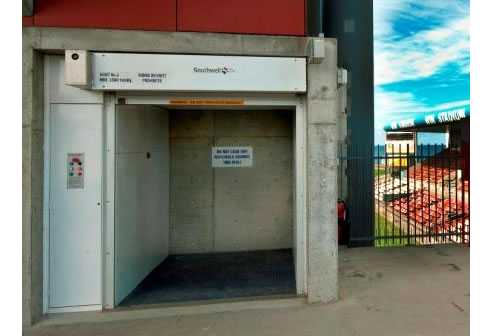 CUSTOMISED HOISTS FEED WOLLONGONG'S FANS
This latest work is a continuation of Southwell's association with the Stadium and head contractor. The company had previously also designed, manufactured and installed a Freestanding Goods Hoist to the Southern Stand at the external eastern face.
The quality and reliability of Southwell's extensive range of lifts and hoists solutions is proven by the fact most of the company's older lifts are still in use. The Quality is backed by the Southwell Preventative Maintenance program, which extends the warranty of all their products from one to three years with a ten year Structural Warranty.
Across the Australasian region, Southwell design, build, install and service lifts and hoists for light commercial and retail businesses through to heavy industrial and transport applications. Their projects range from small lift and hoist through to the design, manufacture and installation of one of the world's largest scissor lifts.
Whatever needs lifting, Southwell have the expertise to provide a high quality, cost-efficient customised solution.