Louvred Pergola Roof with Automatic Rain Sensor from Vergola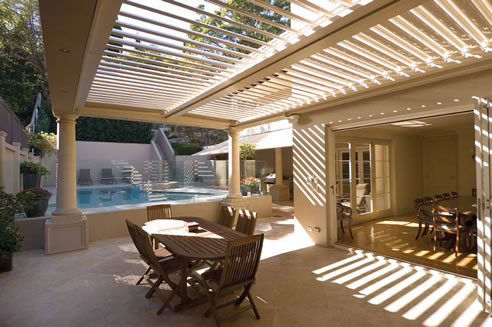 Greater Warmth with Vergola
With winter almost here and temperatures at their coolest, outdoor entertaining can be a distant memory, left behind with the sunscreen, shorts and sandals. But with a Vergola opening roof system, outdoor living areas are no longer only for the warmer months.
With a Vergola louvre roof system, outdoor areas can be protected from harsh wind and rain. An automatic rain sensor responds to the slightest moisture, closing the louvres to keep out the rain, so entertaining can continue uninterrupted! The louvres will also re-open automatically when the weather improves.
The use of double Colorbond steel and Vergola's unique louvre design provides unparalleled insulation, both outside and inside the home. Outside, temperatures can be significantly increased enabling entertaining to continue all year round.
The insulation provided by the Vergola louvre roof system extends to inside the home, with energy costs reduced without sacrificing light penetration. This is because by tilting the louvres, maximum winter sun can be allowed to penetrate, providing warmth as well as light.
The Vergola opening roof system can also be fitted with down lights, perfect for evening entertaining. The addition of a Vergola really can create an extra room, one that can be used for most of the year thanks to the unique versatility a Vergola provides.