Furniture Fabrics for Interior and Exterior by Sunbrella from Nolan.UDA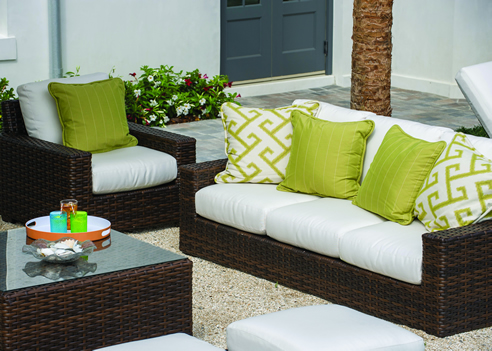 Sunbrella Furniture Fabrics: Bringing two worlds together

One of the many challenges designers face day-to-day is furnishing a room that's suitable for the both interior and exterior environments. You require a fabric that has the delicate charm for an indoor setting, as well as the rugged resilience of an outdoor furnishing. Sunbrella brings the indoors and outdoors together with the latest in furniture fabrics. Sunbrella is well known throughout the industry for its outstanding outdoor performance in marine applications. Sunbrella combines its unique yarn technology with a wide selection of classical and contemporary patterns, to create a stylish and durable upholstery range that will withstand the harsh Australian conditions. Other benefits include; A extensive blend of classical and contemporary ranges
Low maintenance
Soil and stain resistant
Fully washable
Five year warranty Suitable for both indoor and outdoor applications, Sunbrella Furniture Fabrics will not be harmed by UV light and cover cushions made from the fabric can be safely washed in an ordinary washing machine. With over a hundred colours and styles available, Sunbrella is sure to have something to suit any taste. Contact your local Nolan.UDA branch for more information.