Clear PVC for Outdoor Living from Nolan.UDA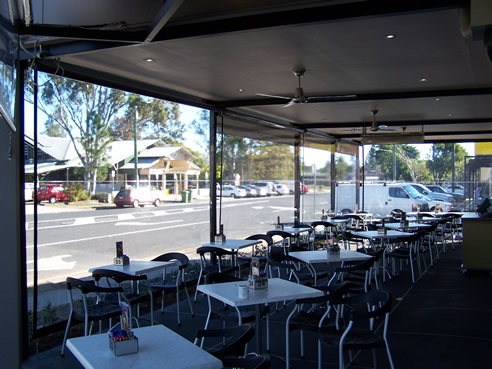 Enhance outdoor living... the solution is clear.

Enjoying a coffee or meal in the sunshine is a favourite weekend ritual for many Australians. It's not uncommon to see outdoor café and restaurant areas bustling with people on the weekend. Unfortunately the harsh Australian elements can impact on the level of enjoyment for this popular pastime. Both humid and chilly days can really affect the hospitality industry and deter potential customers. Nolan.UDA presents Achilles Rollclear PVC glazing, the perfect solution to ensure outdoor enjoyment no matter what the weather brings. Achilles is the leading brand of UV stabilised clear PVC and is ideal for commercial and residential applications. Used on conjunction with the market leading Ziptrak guided blind system, the result is a functional and aesthetically pleasing solution. Benefits include; High clarity to ensure no view is impaired
UV stabilised for high quality protection
FR formulation for BCA compliance
Decades of proven field performance Achilles is a Japanese company that is renowned worldwide for its premium quality. Their products are manufactured under strict quality guidelines that set the benchmark for which others strive to meet. Available in a variety of thicknesses and qualities, the 'SLS' range also includes a non-slip additive to make the rolling and un-rolling easier. Contact your local Nolan.UDA branch for more details.