Insulated Exterior Vinyl Cladding Duratuff from Austech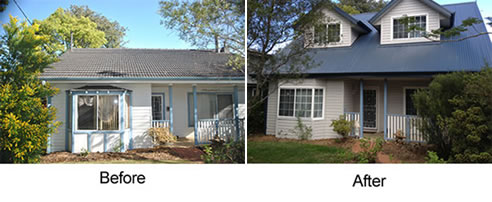 Duratuff Select Vinyl Cladding gives
this home a fresh classic make over!
A residence in the Lower Blue Mountains of NSW has extended and updated the look of their home. They chose Duratuff Select Vinyl Cladding in the Sterline colour with White Designer Window Castings to finish the look on their home.
Richard from Blue Mountains Building Co. installed the house cladding. "This is my second extension using Duratuff Select Vinyl Cladding and already I feel like an expert. It's so easy to use and with long lengths it goes up very quickly. It's also very light which is very helpful for second storey extensions. We used the White Designer Window Casing around the windows which really enhanced the final look of the house." says Richard.
The walls of the home were installed with 20mm foam for extra insulation. Duratuff is low maintenance and comes with a 50 year warranty and available in 13 modern colours.
With offices in every state, Austech supply Duratuff Select Vinyl Cladding throughout Australia. To speak to an experienced member of the Austech team in your area, send us an email or see our office locations and details. Austech - Supporting you with Smart Solutions.