Shadecloth Approved by Melanoma Foundation from Nolan.UDA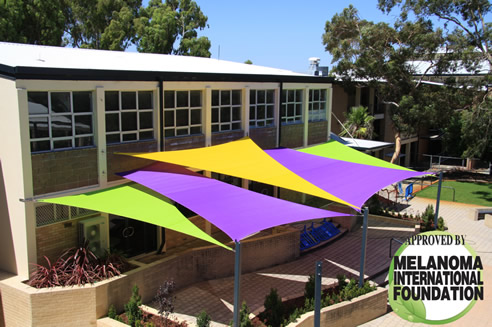 Nolan.UDA shadecloth approved by Melanoma Foundation
Australia has one of the world's highest rates of skin cancer. In NSW alone, almost 3,600 people are diagnosed with Melanoma every year. Exposure to Ultra Violet Radiation (UVR) from the sun is the major cause of skin cancer.¹
High quality shade structures in conjunction with other protective measures are an effective way to reduce UVR exposure and are essential for vulnerable environments such as schools and playgrounds.
Polyfab Commercial Shadecloth is designed for high tensioned shade sails & structures and offers industry leading UVR protection.²
Polyfab is also proud to announce that it has been awarded the seal of approval by the Melanoma International Foundation (MIF). The seal is awarded to products that assist with community protection against Melanoma and promote safe sun behaviour.
Providing adequate shade for the community is an important health and safety concern and Polyfab are proud to partner with MIF to promote safe sun behaviour, including the benefits of shade sails and shade structures.
Visit our fabric structures directory for more information.
¹Cancer Council NSW. 2013, Guideline to Shade, Cancer Council NSW, Sydney
²Applies to Polyfab Architec 400. Level of UVR protection dependent on colour selection.