Energy Efficient Glass Facades from Paarhammer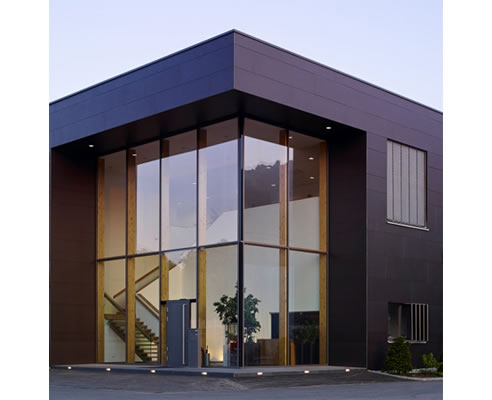 Energy Efficient and sustainable Glass Facades are now a reality
With a low U-value from 0.8 you can't go past the new glass façade by Paarhammer, released at this year's Designbuild. Constructed from timber, double and triple glazing and aluminium cladding, curtain walls have come a long way. Door, windows, fixed glass or solid panels are easily inserted to create the look while being extremely functional.
Used in Europe, US and Canada in medium-rise commercial as well as in multi-level residential buildings for years, these facades are high performing and can reduce energy use by up to 80%. Leading the way in commercial sustainability an investment in energy efficient facades saves on heating and cooling costs every day for the life of the building. Future building value may also be determined by the use of sustainable energy efficient components.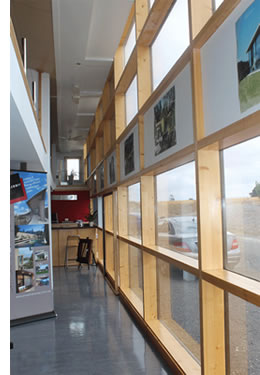 Paarhammer new release ECO Façade is slender and sturdy. The visible aluminium profile on the outside is only 50mm wide and available in a variety of colours. The internal timber structure ensures stability and high energy efficiency makes this also suitable for a Passive house façade.
As each glass panel operates independently, inserts of openable windows or doors can easily be accommodated to suit the design requirements, operated manually or motorised. Doors can be single, French, bi-fold or sliding and some can have fingerprint recognition or be included into automation systems.
Glass units between 24 and 48mm to customer's specifications are inserted. All different glass combinations including Low-E, tinted, self-cleaning etc. are possible to choose from to make up double or triple glazed units. The contact pressure of the glazing caskets are regulated by sealing profiles.
Paarhammer has developed a simple site assembly system for their new Eco Facades, saving time and money. A layer of aluminium is clipped onto the outside and guarantees a hardwearing and maintenance free outer skin. The internal construction is made in timber or engineered timber and can be load bearing.
Facades offer distinct advantages by allowing to choose glass solution for the right light levels and insulation, thereby significantly reducing lighting as well as heating and cooling costs. Working in a comfortable, healthy and energy efficient environment increases staff satisfaction and work output. Humans respond positively to the internal timber as it is visually warm and contributes to a positive, relaxed atmosphere. In addition to emotional benefits, wood contributes to humidity control, controls air-borne contaminants and emits very few, if any, harmful vapours. It also stores carbon for life.
The strong construction of this new ECO Façade is made in timber which is becoming more popular as a building product around the world, a trend lead in Australia by the famous 'Forte' building.
With Paarhammer you can have it all: the warmth of timber inside and no-maintenance aluminium outside, the health and cost benefits of energy efficiency, all packed in a very attractive customised ECO Façade.