Antique Mirror Tiles from RMS Natural Stone & Ceramics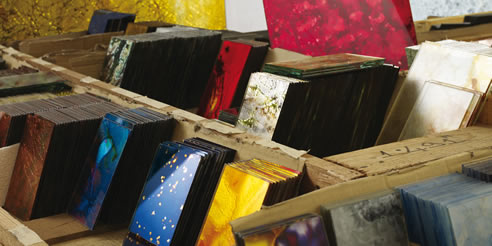 These are reproduction antique mirrors and coloured mirrors achieved with a special silvering technique, comparable to an explosion of colour which creates a three-dimensional effect on the surface.
The range of application is almost unlimited, interior finishes, panelling for ceilings, walls and columns for a wide range of interiors, inserts for antique and modern furniture, plus composite panels and tiles.
For this range special brightly coloured lacquers are manually applied to the glass and a high quantity of silver is used to accentuate their colours and brilliance. Ideal for enriching objects and interior decorations with distinctive designs and a special touch of colour.
Hand decorated with abstract, multicoloured patterns. When mounted in wooden doors, sliding wall panels and furniture doors they become elegant elements of interior design. The sheets in this collection can also be laminated.