In-Store Lighting Shopfitting Trends from SI Retail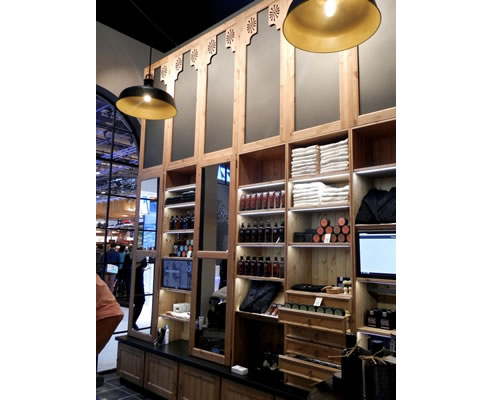 2014 shopfitting trends: In-Store Lighting
At EuroShop, particular attention was given to the subject of in-store lighting with more than 240 lighting exhibitors. Lights are essential in-store fixtures. They convey emotions, create the store's atmosphere, highlight products and make it easy for customers to browse through and find their way around the store. What are the in-store lighting trends for 2014? And how to use lighting for best results?
Stores have two different kind of lighting: ambient and accent lighting. Ambient lighting is used to describe the general lighting of the store. It sets the atmosphere and guides the customers through the store. Accent lighting focus on a product or shelf. It highlights a product and makes it look more attractive.
In the past, the focus was on ambient lighting to help customer find what they were looking for but it can make the products look washed out. Increasingly, store managers are using accent lighting to create contrasts. LED is a perfect solution for accent lighting due to their directional light and uniform brightness.
LED Lights:
As energy prices continue to rise, accent lighting comes in handy as it uses less energy than ambient lighting. The new LED light fixture is also a very efficient lighting. A recent Washington Post article reported that LED lamps consume nearly 70% less energy than incandescent lights and last 30 times longer so they cut down on pollution, energy and labour costs.
Moreover, LED lights produce less heat than traditional lighting making them ideal for grocery stores. Another benefit of LED lights is the wide choice of colours available. You can choose a warm or soft white that will produce a yellow hue making your store feel cosy or a bright white that will produce a natural daylight feel.
Types Of Lighting Systems At EuroShop
There are many different kind of lighting systems created for different applications.
Signage Lighting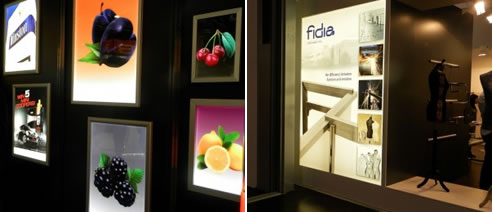 LED Cable Display Signage & LED Signage Lights
Accent & feature display lighting


Accent light on shelving & Ceiling Accent Lighting for bigger products
Retail displays with lights on shelves & Lights in Mannequins

Retail displays with lights in the background

Lighting Tips:
Lighting in retail is all about contrast and focus and it is achieved through a balance of ambient and accent lighting. Zumtobel, a lighting company, researched the subject of "Attention, attractiveness and perception mediated by lighting in retail spaces" and below are some of their findings
Don't increase brightness but increase contrast
Accent lighting to highlight products
Diffuse general lighting to create a sense of well being
Vertical lighting helps to delimit a space
Cool colours such as white seem to make the room appear more spacious
Warm colours create an impression of coziness
Minimize direct light and reflected glare into the eyes of customers


Create contrast with LED Accent Lighting
The future of in-store lighting
In the future, LED lights will track shoppers and send messages to their mobile phones. You have heard of the Ibeacon geolocalisation technology before with brands such as Apple and Macy implementing it in their stores. Phillips has developed this tracking technology in the lighting system; it is being trialled in Europe at the moment. The advantage is that lights are already everywhere in the store so retailers don't need to invest in additional infrastructure to support this new tracking technology. Read more about Technology trends, including Ibeacon. The trend is to use lighting systems as a platform for a wide range of sensors.
SI Retail is a provider of solutions in retail. We have the ability to custom make almost anything, so if you see something that you like and you would like a quote, give us a call on 1800 211 122.